CHAMBERSBURG: Chambersburg Council For the Arts Proudly Presents "Focal Point" On View
March 9, 2018 @ 10:00 am

-

2:00 pm
---
"Focal Point"

Photography by:
Staci Grimes
Linda Richters – "All That Jazz"
Andy Smeltzer – "Through the Trees"
Elizabeth Willson"
On View:

March 2nd – April 20th
Tuesday – Friday
10 am – 2 pm – or by appointment
Staci Grimes has been working on her photographic viewpoint for over a decade. Her camera has traveled alongside her across the continental United States. "I consider myself a framer of the view," she says, "and I enjoy sharing my perspective with others who are interested in the world." "I live in Fayetteville, but my travel plans in the next two years will provide the opportunity to capture moments ranging geographically from local vistas to the Florida Keys to New Zealand." Staci has displayed her photographs in many solo and group exhibits throughout the Cumberland Valley over the past decade.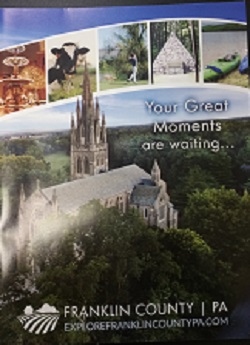 Fayetteville photographer Linda Richters earned a B.S. degree in Music Education from Lebanon Valley College, followed by a career as an analyst at Citibank, but in retirement has turned to travel, photography, and back to music, to fill her time. Her photographs have been accepted in the juried Cumberland Valley Photographic Salon at the Washington County Museum of Fine Arts, and featured on the cover of the Franklin County Visitors Guide.
Andy Smetzer is a graphic designer / photographer from Waynesboro, and serves on the Board of the Arts Alliance of Greater Waynesboro. He is a member of the 42West Arts Gallery Co-op there, and has participated in shows at The Engine room, Destination Arts and The Inn at Boonsboro. "I basically enjoy all aspects of photography," he says. "From landscapes to wildlife, close-up work using magnifiers, abstract, people/musicians, architecture and interior-exterior real estate." Andy also enjoys digital image manipulation, and has created a library of clouds, rocks and stones, seashores, tree stumps, etc. with which he can create composite photographs.
Elizabeth is a happy and grateful "professional hobbyist" capturing the light and life that surrounds her. "My inspiration comes from the beauty of the every day moments," she says, "and the blessings of God's amazing creation, the light and life He brings: the beauty and wonder and joy." A Chambersburg native and resident, Liz is a busy mother of four who also practices Occupational Therapy in Early Intervention, running trails in the nearby Appalachian Mountains, and, of course, taking photographs!
The Council for the Arts conducts classes and displays the work of local artists at 81 North Main Street, Chambersburg. For more information, visit: www.councilforthearts.net or call 717-264-6883.
---