WAYNESBORO: Antietam Historical Association – "Antietam Heritage" 2nd Volume Launch Party
---
Antietam Historical Association will launch the second volume of its full-color, hardbound annual, "Antietam Heritage," in the Renfrew Museum and Park visitors center.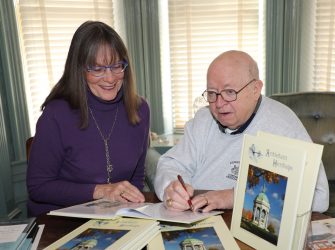 Contributing authors will present brief remarks about their articles and will autograph books for patrons. The launch party is free and open to the public. Light refreshments will be served.
"Antietam Heritage," Vol. 2 contains a variety of local historical articles:
• "A Final Farewell," a story of the Lost Battalion, by Kenneth L. Peiffer;
• "My Yalow Garl Rose," a study of bondage in the Antietam country, by Scott K. Parker;
• "Family, Furniture & Fraktur," a sampler of decorative arts owned or produced by local Pennsylvania Germans, by Jean Woods;
• "Remembering Samantha French Brenisholtz," by Brenda Hornsby Heindl, which asks the question, Was she the chief telegraph operator during the Battle of Gettysburg?
• "Potters of Waynesboro and Vicinity," by Todd A. Dorsett, discusses the manufacture of earthenware in the upper Antietam country during the eighteenth and nineteenth centuries.
The volume also includes:
• the final installment of "The Adventures of Margie Ripple," the memoirs of a sophisticated Waynesboro woman;
• "The Evolution of Dr. Ripple's House," the history of the residence located at 144 West Main Street, Waynesboro; and
• "An Act for the Gradual Abolition of Slavery."
The book contains these regular departments:
• "Myth Busters" corrects inaccuracies in local history. In this volume, it determines the real date when Pen-Mar Park was opened to the public;
• "Books in Print" contains reviews of some recently published local works;
• "The Patent Department" features U.S. letters patent issued to local inventors. This volume focuses on the versatile W. W. Frantz, lawyer, engineer and newspaper editor whose inventions ranged from a spittoon to a combined fowl roost and vermin trap.
There are also pictorial spreads about Pen-Mar Park and the Maryland Monument on Antietam National Battlefield.
Peiffer is a retired photojournalist and former county coroner. Parker is president and director of research of Little Antietam Creek, Inc. Woods spent more than 30 years in the art field, including 21 as director of the Washington County Museum of Fine Arts. Heindl is a professional historian and potter. Dorsett, a local historian and genealogist, edits the publications of Antietam Historical Association.
"Antietam Heritage" retails for $22.50 plus tax. At the launch party, however, AHA will offer it directly for $19.95 plus tax.
For more information, call 717-762-2006.


AHA was incorporated in 2006 to interpret the history of the region in Maryland and Pennsylvania drained by Antietam Creek. It pursues its mission through fun events and scholarly publications. It also sponsors three study groups: The Potomac Street Irregulars focus on crime in local history. Third Thursday Biography Breakfast studies deceased local residents who are not already history-book celebrities. The Antietam Ramblers take field trips to natural and historic sites in the region. All AHA events and study groups are open to the public.
---