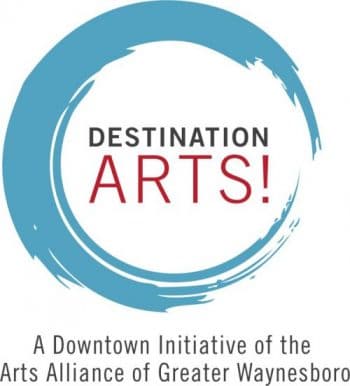 All events are free unless otherwise indicated. Special activities and performances are indicated below. For more information, please visit the website at

www.artsalliancegw.org

or contact Kathyrn at: 717-655-2500 or at kgratton@artsalliancegw.org
Sept. 18th – Handbuilding Workshop – Pinch Technique: 6 – 8 p.m. – Walnut Street Studios
117 Walnut St.
Waynesboro, PA 17268
During the first (2) classes you will learn the basics of the Pinch Technique of Handbuilding with clay.
These projects will be bisque fired.
More information can be found at: www.walnutstreetstudios.com
September Shows – Visiting, Local, & Featured Artists & Potters
Gallery 50:
50 E. Main St.
Waynesboro, PA 17268
Regional Artists. Artists: Jan Heath, Rebecca Grace Jones, Sarah Higgins, and Vickie Favilla will be featured in our fall show. Come and meet the artists for our opening night on September 21st from 6-8pm. For more information go to www.artsalliancegw.org/gallery50
Ceramic Arts Center: Darby Fritsche – Featured Potter
13 S. Church St.
Waynesboro, PA 17268
Darby Fritsche was first introduced to pottery as an adult attending Wilson College. Though she left the craft for a while, she returned as guild member last year to resume her passion. Her style is functional pieces with simple silhouettes enhanced by textures. A reception is planned for Friday, September 7th from 5-8pm.
Gallery 35 East: Linden Showalter – Featured Potter
35 East Main St.
Waynesboro, PA 17268
Linden Showalter has a love for photography, and while he has had the passion for many years it was only recently that he begun displaying his work. He enjoys traveling and always has his camera with him to document his travels. Stop in and see some his work documenting both local and international travels.
Gallery 35 East: Carol Wilks – VIsiting Artist
35 E. Main St.
Waynesboro, PA 17268
Join us as we host, Carol Wilks, a member of (3) art societies, Carol's work has been on display throughout the Tri-State region. She has won awards for her pastel animal works, and most recently displayed in the show, "Fur and Feathers", at the Schuler School of Fine Art in Baltimore. Her work will be on display September 7th- 16th.
Gallery 35 East: East: Kim Bryan – Featured Author
Gallery 35 E. Main St.
Waynesboro, PA 17268
During Friday evening operating hours stop into Gallery 35 East and meet local author, Kim Bryan. She will have copies of her book available for purchase and to be signed.
Gallery 35 East: Glen Sabetto – Visiting Artist
Join us as we host, Glen Sabetto. Her work will be on display September 21st – 30th.
42 West Arts: Donna Bingaman – Featured Show "Dancing Brushes"
42 W. Main St.
Waynesboro, PA 17268
Students of Donna Bingaman will be exhibiting their art works, "Dancing Brushes". An opening night reception is planned for September 7th from 5:30-8pm and will feature wine, chocolates, and refreshments along with a special performance by Earth Song Ensemble.
September All Artists' Show – 42 West Arts
42 W. Main St.
Waynesboro, PA 17268
A Splash of Color. All of the members of 42 West Arts will showcase pieces in this show. The show will include all related art in various forms from Donna Bingaman, Denny Bingaman, Jennifer Caldwell, Pamela Nelson, Ed Beard, And Smetzer, Pat Beard, and Steve Semiatin.
Musical performances at Destination ARTS! are supported in part by the Arts for All Partnership, a collaboration between the Foundation for Enhancing Communities and the Cultural Enrichment Fund, and the Pennsylvania Council on the Arts, a state agency funded by the Commonwealth of Pennsylvania and the National Endowment for the Arts, a federal agency.
Destination ARTS! Currently includes:
Gallery 50 (50 West Main Street)
42 West ARTS (42 West Main Street
The Ceramic Arts Center of Waynesboro (13 South Church Street)
Gallery 35 East (35 East Main Street).
The galleries feature oil paintings, watercolors, pottery, sculptures, jewelry, photographs, furniture, and more. Most art is available for sale and there is no charge for admission to the galleries.
Gallery Hours:
Thursday from 1:00 to 4:00 p.m. (Gallery 50 and 42 West ARTS Co-op only)
Friday from 5:00 to 8:00 p.m.
Saturday from 12:00 to 6:00 p.m
Saturday from 12:00 to 6:00 p.m.