---
All events are free unless otherwise indicated. Special activities and performances are indicated below. For more information, please visit the website at: www.artsalliancegw.org or contact Kathyrn at: 717-655-2500 or at kgratton@artsalliancegw.org.
June 13th, 2018 – Wheel Throwing Class: Walnut Street Studios – 6:00 p.m. – 8:00 p.m.
117 Walnut St.
Waynesboro, PA 17268
The basics of wheel throwing will be taught including wedging, centering, throwing, & glazing. The course is $225 and includes tool set, 25lbs of clay, firings, & instruction. @100 non-refundable deposit due at the time of registration. Cash or Check payable to: Walnut Street Studios
Limited to 3 students per class.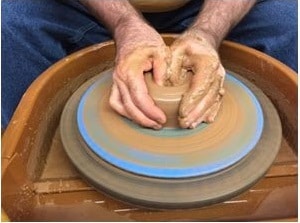 More information can be found at: www.walnutstreetstudios.com
Call: 717.729.7125 or Email; walnutstreetstudios@gmail.com
Pottery/Wheel Throwing Classes
Instructor: Lunn Meyers
Class Dates:
July 10th – 6:00 p.m. – 9:00 p.m. (Instruction Times)
July 13th – 6:00 p.m. – 8:00 p.m. (Instruction Times)
June 29th – 5:30 p.m. – 8: 00 p.m. – Gallery 50
50 West Main Street
Waynesboro, PA 17268
June Art Reception: Be Dot Gallery Artists – Gallery 50 will host an art reception to unveil the new look of the gallery. Enjoy light hors d'oeuvres and refreshments while browsing the new show on display in the gallery.
June 1st – 5:00 p.m. – 8:00 p.m. Reception – Ceramic Art Center
13 South Church Street
Waynesboro, PA 17268
June Featured Potter: Clara Hayward.
Clara enjoys the functionality of wheel thrown pottery while adding the whimsy of organic nonobjective glaze decoration.

June Featured Artist at Gallery 35 East – Virginia Hair
Gallery 35 East featured artist of the month for June is Artist, Virginia Hair. Virginia is one of the area's best-known artist and is a member of Gallery 35 East. Her artwork seen and purchased at Gallery 35 East.
On Display June 1st – 17th
June Visiting Artist at Gallery 35 East – Janie Moltrup
35 East Main Street
Waynesboro, PA 17268
Janie Moltrup retired from the U.S. Senate Photo-graphic Studio in 2004. She is currently working as a freelance photographer out of her studio located in Smithsburg, MD. Janie's clients range from individuals to corporations. She continues to photograph private events, corporate meetings and social gatherings, and individual and family portraits. Janie has a line of "fine art images" available featuring her more artistic photographic images. Her work will be
Gallery Hours:
Thursday from 1:00 to 4:00 p.m. (Gallery 50 and 42 West ARTS Co-op only)
Friday from 5:00 to 8:00 p.m.
Saturday from 12:00 to 6:00 p.m.
Sunday from 1:00 to 4:00 p.m.
Destination ARTS! Currently includes:
Gallery 50 (50 West Main Street)
42 West ARTS (42 West Main Street
The Ceramic Arts Center of Waynesboro (13 South Church Street)
Gallery 35 East (35 East Main Street)
Musical performances at Music Makers are supported in part by the Arts for All Partnership, a collaboration between the Foundation for Enhancing Communities and the Cultural Enrichment Fund, and the Pennsylvania Council on the Arts, a state agency funded by the Commonwealth of Pennsylvania and the National Endowment for the Arts, a federal agency.
---