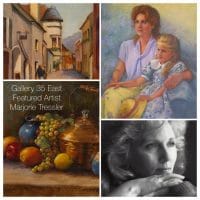 All events are free unless otherwise indicated. Special activities and performances are indicated below. For more information, please visit the website at: www.artsalliancegw.org or contact Kathyrn at: 717.655.2500 or at kgratton@artsalliancegw.org.
Musical performances at Music Makers are supported in part by the Arts for All Partnership, a collaboration between the Foundation for Enhancing Communities and the Cultural Enrichment Fund, and the Pennsylvania Council on the Arts, a state agency funded by the Commonwealth of Pennsylvania and the National Endowment for the Arts, a federal agency.
Destination ARTS! Currently includes:
Gallery 50 (50 West Main Street)
42 West ARTS (42 West Main Street
The Ceramic Arts Center of Waynesboro (13 South Church Street)
Gallery 35 East (35 East Main Street).
The galleries feature oil paintings, watercolors, pottery, sculptures, jewelry, photographs, furniture, and more. Most art is available for sale and there is no charge for admission to the galleries.
Gallery Hours:
Thursday from 1:00 to 4:00 p.m. (Gallery 50 and 42 West ARTS Co-op only)
Friday from 5:00 to 8:00 p.m.
Saturday from 12:00 to 6:00 p.m.
Sunday from 1:00 to 4:00 p.m.
August 27th – Painting Class: 1:00 p.m. – 4:00 p.m. – Gallery 35 East
35 E. Main St.
Waynesboro, PA 17268
Join Marjorie Tressler for a painting class for artists of ability Levels. Classes are for novice to advanced/professional artists seeking to improve style and technique in oil, acrylic and drawing. $65 for six classes. Continuous Monday classes, join anytime. Call 717-762-6791 or email marjorietressler@comcast.net.
August Featured Show at Gallery 50: Abstract Collages:
Gallery 50 has been transformed into an imaginative wonderland with abstract art on display and for sale by the artists of Be Dot Gallery. The collage works of Julie Maynard, elevating everyday objects into and her mystical bird collection are also for sale and on display. The show will run throughout the month of August.
August Featured Potter at Ceramic Arts Center: Melanie Erb:
Melanie is an art teacher at the Waynesboro Area High School. During the summer, Erb enjoys experimenting in pottery as a creative outlet. Currently she is working with stained clay to create marbled and swirled objects.
August Featured Artist at Gallery 35 East: Holly Wheeler:
Gallery 35 East featured artist of the month for August is Artist, Holly Wheeler. Holly enjoys painting for relaxation, and playing with her English Spring Spaniel, Maggie Malone. She is a Waynesboro resident, but has resided in many parts of the US and other countries including China, Germany, England, and Canada. Her paintings can be seen and purchased at Gallery 35 East during operating hours.
August Visiting Artist at Gallery 35 East: Leona Kronstadt:
Join Gallery 35 East as we host, Leona Kronstadt. Having grown up in the country, her love of nature and that outdoors grew throughout her life. Her love of the natural world is reflected in her paintings of the local landscapes. She currently resides in Hagerstown, MD with her husband, Victor, and her rag doll cat, Freddy, who occasional serves as inspiration for her pet portraits. Her work will be on display August 10th – September 1st.
August Featured Artist at 42 West Arts: Jean Frey:
Jean works primarily in oil paint and pastel, but also enjoys sketching and draws in charcoal, pen, and ink. Her painting subjects are everyday scenes and objects that she hopes to give viewers a new light to admire them in.
August All Artists' Show at 42 West Arts: A Splash of Color:
All of the members of 42 West Arts will showcase pieces in this show. The show will include all related art in various forms from Donna Bing-aman, Denny Bingaman, Jennifer Caldwell, Pamela Nelson, Ed Beard, And Smetzer, Pat Beard, and Steve Semiatin.