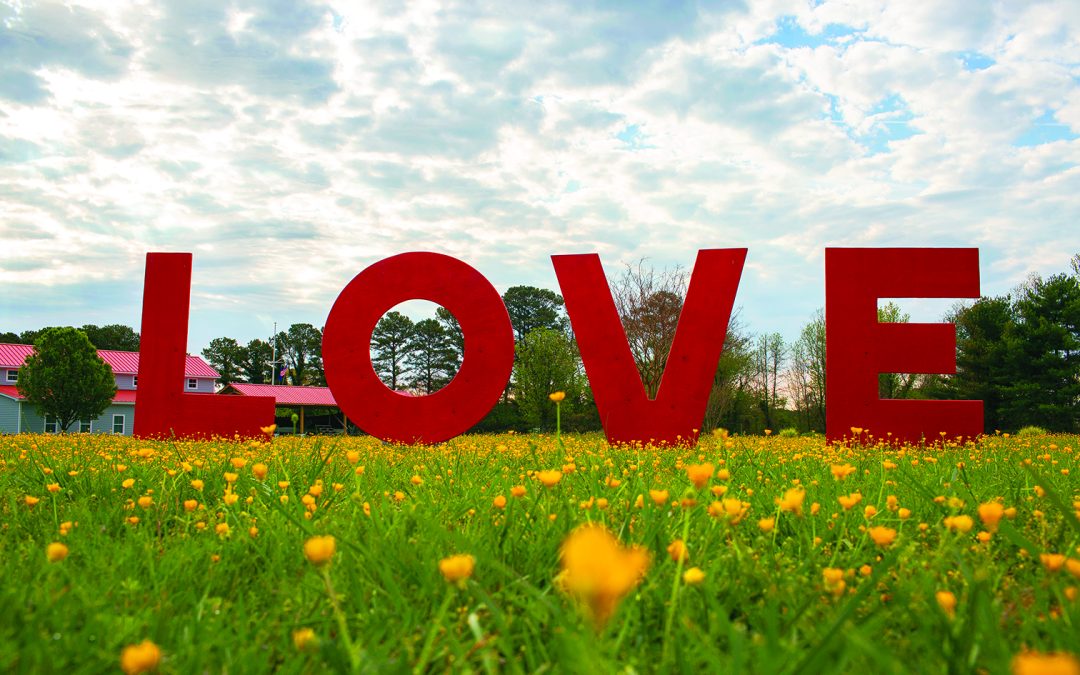 Virginia's slogan, "Virginia is for Lovers" turned 50 in 2019. To celebrate, letters spelling LOVE were setup throughout the state. Deltaville was chosen as one of the locations. The Deltaville Maritime Museum is in the background.
What does it feel like to be on the receiving end of a Certified Tourism Ambassador? My husband and I recently took a vacation that took us to some well-known tourist destinations and to places less known. We visited Myrtle Beach, Key West, Miami, and several places in the Caribbean.
But my best experience was in a small, out-of-the-way town in Virginia called Deltaville, located on a peninsula with the Rappahannock River to the north, the Piankatank River to the south, and the Chesapeake Bay to the east. The town developed around a large boat building industry, mostly for commercial bay watermen, but those days have passed.
Now the area is dotted with numerous marinas, boatyards, and marine-related businesses. Stingray Point, at the end of the peninsula, gets its name from the 17th century when Captain John Smith was stung by a stingray while fishing there. Seriously injured, Smith gave orders to his men to prepare a grave for his body. Legend has it that he was saved when Native Americans provided a cure, found at a nearby creek, now known as Antipoison Creek.
There isn't much in Deltaville to brag about. No red lights. No fast food places. There is, however, a 7-11 convenience store, but there are no restroom facilities inside. It does offer a "job-johnnie" along the side of the building, if you are need. Our favorite place is the Maritime Museum and Grounds where we like to settle down at a picnic table, eat Maryland blue crabs and enjoy the beautiful view of the river. We have a small camper on a plot of land my husband owns outside Deltaville. It is raw camping. No electric. No heat. But the camper keeps us out of the weather.
Every year at the beginning of November, a near-by town, Urbanna, holds its annual Oyster Festival. It is a two day event and we enjoyed the first day of it together. The next day my husband wanted to go back to the festival, but I needed to find some place to park for the day and do some writing. I needed a table, a chair, electric, warmth and, hopefully, a place with wifi. We drove around Deltaville looking for a coffee shop or restaurant that would allow me to stay there for about five hours, but it was still too early. It seemed nothing opened until 10 am.
At one point we went to the Maritime Museum, but it was not open yet either. That's when I spotted a woman walking on the grounds. I asked her if she knew anywhere in town that would meet my needs. She said, "I work here at the museum. You can use the board room, which is the library, and it will be quiet. There are snacks there that you can enjoy. And we also have wifi."
I told her I felt like hugging her. After the museum open, I sat for hours and wrote our church's Christmas production. I had to leave before it was done, but I finished it that night back in the camper, writing by the light of a small lantern, while shivering from the chilly night.
During the Tourism Summit in September, Mickey Schaefer talked about making positive experiences for the visitor. While this woman, who came to my assistance, probably was not a CTA, she should be, as she exemplified everything that the CTA program teaches.
While thousands were walking the streets of Urbanna at the Oyster Festival, I had the best experience as I enjoyed the hospitality of a place, which does not have many attractions to offer visitors. Deltaville was my favorite memory of our four week vacation along with that one person who portrayed the true CTA spirit. She showed me that it is not what your community has to offer that matters; it is what you offer those visiting your community.
By: Nancy Godfrey, CTA
CTA Newsletter Editor