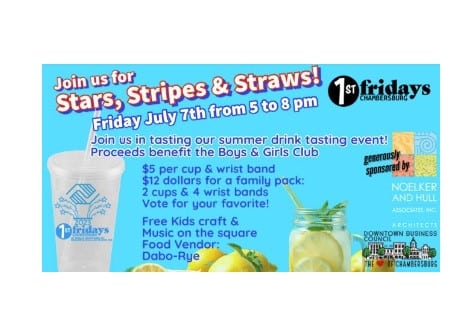 1st Friday – Stars, Stripes & Straws in Downtown Chambersburg
Friday July 1st, 2023 * 5:00 PM – 8:00 PM
We are happy to bring back Stars, Stripes & Straws!
We are working with the Boys & Girls Club of Chambersburg & Shippensburg for this event to help raise funds for this amazing community organization.
Cups will be on sale for $5 dollars per cup with a wrist band | $12 dollars for a family pack of 2 cups and 4 wrist bands.
Cups will go on sale at 5:00 PM pm until they are gone.
12 locations will have summertime drinks available to taste!
Vote for your favorite and be added to the drawing for a door prize.
Food vendor: Dabo-Rye | Free Kids crafts!
Festive spinners and Christmas in July!
We are having a drawing contest for the logo for the 2023 Cocoa Crawl Mug design!
The top 10 logo ideas will be voted on and placed on the mug for 2023!
We can't wait to see what our community kids come up with!
Ages 3 to 15 can submit a design.
Downtown Chambersburg