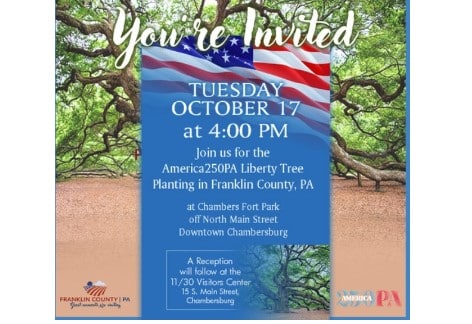 America250PA Liberty Tree Planting in Franklin County PA | Chambers Fort Park, Chambersburg
Tuesday October 17th, 2023 * 4:00 PM
The Franklin County Visitors Bureau invites the community to the America250PA Liberty Tree Planting in Franklin County PA at the Chambers Fort Park, off North Main Street, in downtown Chambersburg.
The effort is generously sponsored by and made possible in partnership with the Pennsylvania Freemasons, America250PA's Liberty Tree Project includes a certified Liberty Tree planted in each of Pennsylvania's 67 counties.
Franklin County is the second county to have this historic tree placed.
This event and reception is FREE to attend at the 11/30 Visitors Center, 15 S. Main St Chambersburg