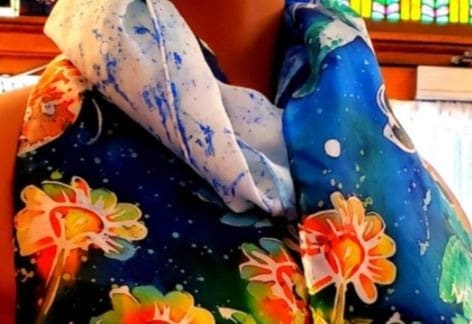 Batik Silk Scarf or Pillow Case at Joyful Arts Studio
Friday April 30th, 2021 * 6:00 PM – 9:00 PM
Beginner's welcome!
Class Tuition and supplies: $60
Join Susan for a quick lesson on painting a Batik silk scarf or a silk pillowcase.
You won't believe how easy it can be!  You choose your color scheme and design.
All supplies will be provided, including a 100% silk scarf or pillowcase, fabric dyes, and instruction.
Class size is limited so register soon!
The pillowcase is 16 x 16 inches square and ready for a pillow form which is not provided.
The scarves are 11 inches x 60 inches.
You will need to bring paper towels,  Reynolds white freezer wrap, and one bar of Gulf Parafin wax
(All of these are purchased at the grocery store).