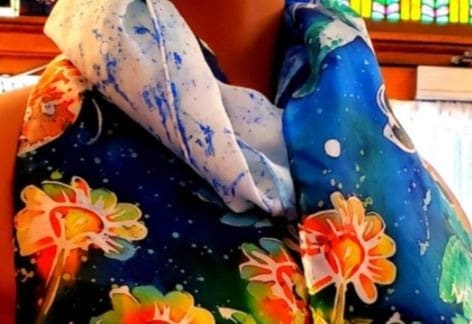 Batik Silk Scarf with Copper Stamps at Joyful Arts Studios
This is a class in the studio,  a MASK is required. Social distancing will be practiced.
Join us for a fun evening of painting a silk scarf. The scarf is 11×60 inches and is completely sewn and ready to wear once the paint is dry.
Batik is a very old art form that involves using hot wax as a resist. You can do Batik on paper and silk. We will be using tjaps, handmade copper stamps which are heated in the hot wax. We have a large variety of tjaps. Each person will be choosing their own design elements and colors, so everyone will have a unique piece at the end of the evening.
Brushes, supplies, and paint will be provided. Seating is limited so register soon!