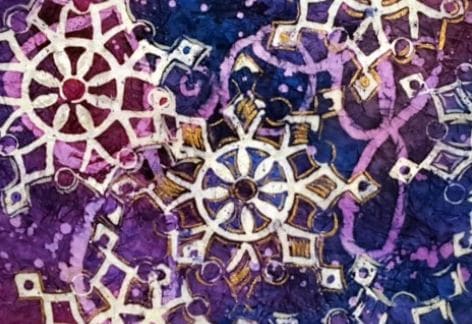 Time
12:00 pm - 4:00 pm
Cost
$60.00
Batik Watercolors with Copper Stamps, Tjaps -2021
Joyful Arts Studio, Greencastle, PA
Saturday, January 16th * 12:00 PM – 4:00 PM
This is a class in the studio,  a MASK is required. Social distancing will be practiced.
Come and learn about the gorgeous copper stamps, tjaps, pronounced chops. You will use these to create the focal area of your painting. You may choose one of the other tjaps such as a daisy, fern, butterfly, peacock and bumble bee, the choice is yours. Colors used will also be your choice. You will be painting in watercolors on Ginwashi rice paper, using hot wax as a resist and then accenting with acrylics once complete.
Cost: $60
Beginner's welcome, all supplies will be provided by Susan.