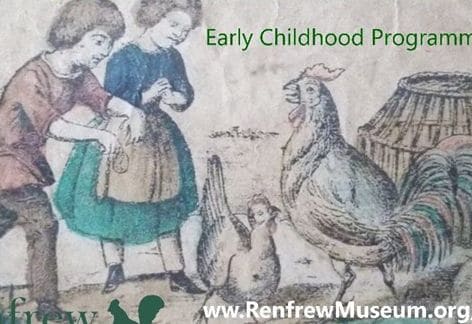 Farmstead Fun for Wee Ones at Renfrew Museum and Park
Monday, June 14, 2021, Monday, July 12, 2021, Monday August 9, 2021
10:00 AM – 11:00 AM
(Program activities will be identical for all three.)
$5 per child / $2.50 for Friends of Renfrew Members
New Early Childhood Programming at Renfrew!
Join our interpretive staff  for an hour-long program designed especially for little learners! Divided into three 20-minute segments, children will make a craft, enjoy a song and story, then participate in sensory play – all inspired by life on our historic Pennsylvania German farmstead.
Craft: First, children and their accompanying grown-ups will make farm animal hand puppets from paper bags. Cut out and color three different kinds: a pig, a sheep, and a duck.
Song & Story: Next, we'll use our puppets while we sing "Old Man Royer Had a Farm" and read an interactive storybook together.
Sensory Farm Play: Last, participants will have a chance to act out typical farm chores including "milking" our faux cows, "washing" laundry on a scrub board, carding fluffy "wool", and "planting and harvesting" pretend veggies in sand.
For more information and to register, Click Here