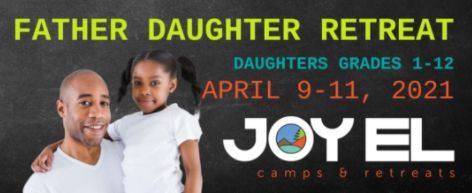 Date
Apr 09 2021
- Apr 11 2021
Expired!
Time
7:00 pm - 2:00 pm
Father & Daughter Retreat, Joy El Camp
 April 9th – 11th, 2021.  Check-in begins at 7:00 PM Friday.
The retreat goes through 12:00 PM Sunday but you're invited to stay and play up through 2:00 PM.
Fathers and daughters in grades 1 to 12
Speaker: Dan Meredith
Dan is a speaker/worship leader with SDG Music Ministry. He is also a former music teacher in a nearby school district where he taught for 33 years. Dan is Kay's husband and dad to three grown children, Adam, Aaron, and Andrea, all of whom grew up attending Joy El programs.
Cost: $163.00 for each father-daughter pair. Cost is $79.00 for each additional child.  A minimum nonrefundable deposit of $50 will hold your reservation. But register by March 12 to pay the discount price of $153 per pair and $74 for additional child.
Housing: Fathers and daughters will stay in separate cabins. In the cabins, daughters will be supervised by Joy El staff/counselors. Campers staying in the lodge pay an additional $51.00 for lodge space. Lodges are reserved on a first-come basis.