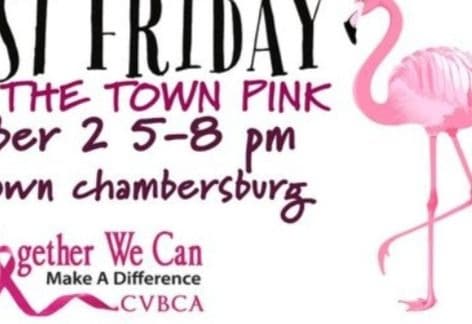 First Friday, Paint The Town Pink
First Friday Downtown Chambersburg, October 2nd * 5:00 PM – 8:00 PM
We are painting the town PINK for October's First Friday! Cumberland Valley Breast Care Alliance (CVBCA) is helping us support and educate all about breast cancer.
The fountain on the square will be turned pink, the trees will be decorated with lights and ribbons & the businesses downtown are decorating their windows pink.
For a bit of fun and to raise money for CVBCA we are having a find the flamingo contest. Scattered throughout Main Street will be Fabulous Flamingos sitting on a shelf or peeking out of a window. Fill your card and you may win a fabulous gift basket full of downtown goodies.
Purchase your $10 tickets Here