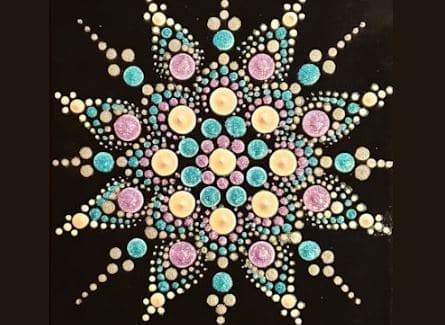 Glitterama Mandala-*Online* -2021 at Joyful Arts Studio
February 12th, 2021 * 6:00 PM – 9:00 PM
*Online* class will be Live with Susan and other participants.
Cost: $20
Supplies will NOT be provided, participants must supply their own brushes, paints, and canvas. A list of supplies and the drawing will be provided via email.
Join Susan for a fun and meditative class learning to create your own mandala's. This is done on your choice of a 6×6 painting surfaces. You will love the soft lavender and blue colors with loads of awesome glitter to make a perfectly festive art just in time for the holidays. They are beautiful!
You will use many different tools to create the various dot sizes.
This is a virtual online class held on Zoom. You will receive an email with the link to join in the class.