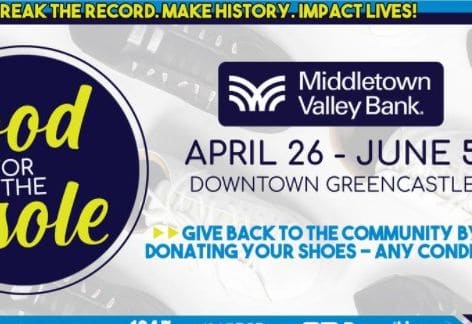 Good For The Sole, ELM Shoes
Saturday June 5th, 2021 * 8:00 AM
We're partnering with Middletown Valley Bank to break the Guinness Book of World Record for the longest chain of shoes – all while giving back to our community!
Start cleaning out your closets, clear off your shoe racks grab those bins of shoes sitting in the garage or basement IN ANY CONDITION and head to ELM shoes to donate! Then on June 5th we will celebrate. (details coming soon)
WAYZ, Bob Rocks, 92.1 The GOAT, The Line News, ELM Shoes, The Town of Greencastle and Chambersburg Waste Paper are partnering together with you to collect at least 12,482 pairs of shoes to break the world record for the longest line of shoes!
Donate Your Shoes @ ELM SHOES – 3 Center Square, Greencastle, PA 17225!
Hours Of Operation:
Monday: 9:00 AM – 6:00 PM
Tuesday-Wednesday: 9:00 AM -5:00 PM
Thursday-Friday: 9:00 AM – 7:00 PM
Saturday: 9:00 AM – 5:00 PM
Sunday: Closed
*Receive a $10 OFF Coupon to ELM Shoes for every pair of shoes you donate now through June 4th! (One coupon may be applied towards each pair you purchase)
Break The Record. Make History. Impact Lives.