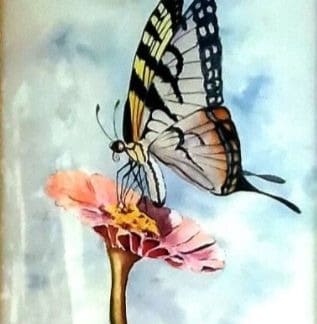 *Online* Tuesday Evenings Watercolors
Join the fun on Tuesday evening painting in watercolors. We have had a great time painting whatever subject matter the group chooses. This month we will be working on a yellow swallowtail butterfly and pink zinnia. We will eventually be starting a Pennsylvania farm scene too.
Previous watercolor experience is recommended. You also will need your own supplies.  We paint what the group decides they want to paint. I will provide a drawing for you and color photos. 
This is a 5 session class and classes must be purchased together, $125.00 per person.
For more information..Click here