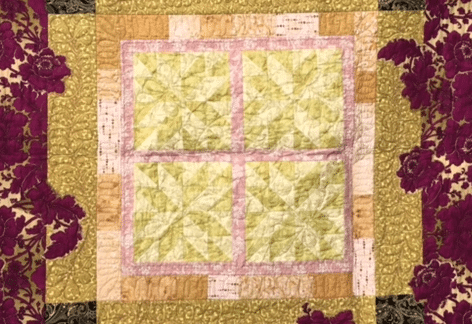 Date
Jul 16 2021
- Jul 18 2021
Expired!
Quilting Weekends at Mercersburg Inn
Friday arrival & 2 nights stay required
If you are reading this then we both know you cannot get enough of it! Exercise your obsession with everything quilting at an unforgettable weekend getaway in a turn-of-the-century Georgian Mansion.
Wine and Roses
Bring your enthusiasm and your supplies to a quilting retreat** and we will have for you a well-lit room, plenty of space, and a great instructor. Frankie resides in Adams County, Pennsylvania. She belongs to Everybody's Quilt Guild in nearby Westminster, MD. She has had a lifelong love of quilting. Her expertise includes paper piecing, appliquéing by machine, machine quilting and hand dying her own fabric. She has been the quilting instructor at the Inn for over six years. If you have enjoyed any of Jennifer Chiaverini's novels and you are searching for your own Elm Creek Manor, you have found it.
Skill level:  Confident Beginner/Intermediate