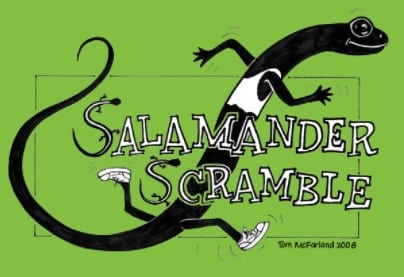 Salamander Scramble 5K Fundraiser 2023, The Institute
Tuesday July 4th, 2023 * 7:00 AM – 11:00 AM
Join Team Salamander for the Salamander Scramble 5K at the Waynesboro Summer Jubilee on July 4th!
Register as a Scrambler for the Kids Fun Run at 7:15 a.m., or the Firecracker 5K at 7:30 a.m.
Lace up your running/walking shoes and join Team Salamander as we "scramble" around Waynesboro to raise funds for The Institute.
Team members secure funding pledges from friends, family, and co-workers. All athletic levels are welcome. 
We hope to see everyone walk, run—or scramble!—for The Institute in 2023!
Can't be with us on race day? You can still register as a Scrambler to support The Institute. Walk, Run or Scramble in 
any location
—be sure to send us a picture in your Scramble t-shirt.
(Shirt provided with registration.) "Virtual Scramblers" Register Here
As part of Team Salamander, you'll enjoy the following perks on race day:
A team shirt (if you are a returning Scrambler you may recycle a 2022 shirt), a cool towel to help you cool off after the finish line, refreshments in our VIP Scramble Tent, and prizes! 
The Institute will cover your Firecracker 5K race fees, a VIP code will be provided upon completion of registration AND with your registration you receive a one-year membership to The Institute.
You'll receive information by mail and get discounts on certain community programs.
There is a grand prize each year to the Scrambler that donates the highest amount to The Institute—whether it's through a large family participating or through raised pledges. 
Grand prize to be announced soon.
Don't want to "scramble" but want to help? We need volunteers for flagging—training provided!