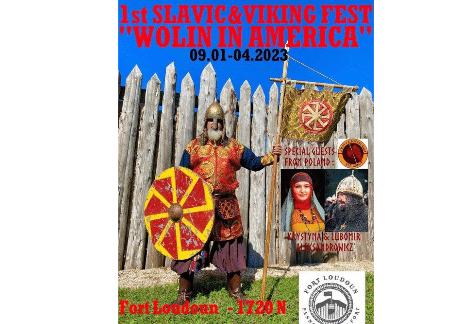 Slavic and Viking Fest, Fort Loudoun Historic Site
From September 1st through the 4th, 2023 * 10:00 AM to 5:00 PM
This event is being hosted by another organization. The following is a message from the event organizer:
The first Slavic and Viking Festival in the United States, Wolin in America, which will take place at Fort Loudoun in Pennsylvania, September 1 – 4, 2023.
This event will be based on the legendary and most popular festival in Poland.
Viking and Slavic teams from all over the United States will be participating.
Also, we will have reenactors arriving from Europe and all over the world.
Among them will be Lubomir Aleksandrowicz, one of the greatest reenactors, who is coming with his family from Poland.
Combat demonstrations in eastern and western styles will be presented during the festival.
There will be many vendors selling items from the Viking Age | Music bands from Europe and America will perform period music.
There will be an opportunity to taste Slavic and Viking cuisine | In addition, we anticipate many games and activities.
On each evening of the festival, we are planning to have a great feast with the accompaniment of period music.
We cordially invite everyone | The event will be open to the public each day.