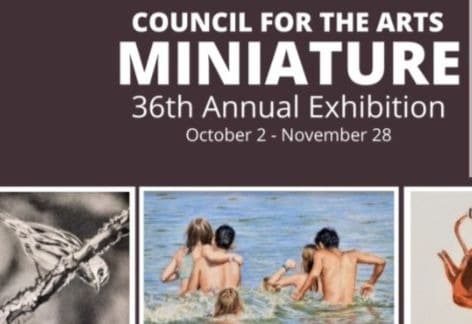 Date
Oct 23 2020
- Nov 28 2020
Expired!
Time
All Day
The 36th Annual Miniatures Show
Council For The Arts Presents The 36th Annual Miniatures Show
October 2nd – November 28th
Miniature art has a long, rich history which is thought to have begun with the decoration of illuminated manuscripts and illustration of handwritten books, mainly of religious texts, though evidence of miniature portraits have been found and attributed to unknown artists as early as 250AD in Rome.
Over the centuries miniature art evolved from being a form of illustration to becoming a kind of portable imagery, in much the same way that we now use photography. Miniature art is also unique in that it was and is often used on objects, such as the Russian lacquer boxes that are beautiful examples of Russian miniature painting.
A miniaturist's unique skill was their ability to create tiny artworks with an incredibly high level of detail and realism.
For more information, visit their site here