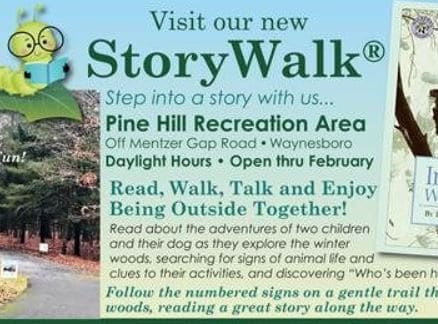 Date
Jan 16 2021
- Feb 28 2021
Expired!
The Institute and Partners Mount a StoryWalk® Trail
A new StoryWalk® children's story trail is open at Pine Hill Recreation Area off Mentzer Gap Road in Waynesboro. 
The park is open during daylight hours, and visiting the StoryWalk® is free. It will remain in place through February.
The StoryWalk® is presented by The Institute in partnership with Washington Township, Alexander Hamilton Memorial Free Library and the Waynesboro Area School District (WASD).
With pages of a children's book mounted on signs along a park trail, a StoryWalk® is a fun way for visitors to enjoy being outdoors in a family-friendly activity, reading an adventure as they walk along the trail.
The 
StoryWalk® 
trail, at the top of the park (just past the Dunlap Family Skate Park) is about 500 ft. long, easily accessible and wheelchair friendly.
The story featured is "In the Snow: Who's Been Here?" by Lindsay Barrett George. Two c
hildren and their dog explore the winter woods, searching for signs of animal life and clues to their activities, answering the question, "Who's been here?"
The trail is open year-round, and plans call for a new book to be installed every month or two.
P
articipants should practice social distancing, giving others six feet of space, and follow official Covid-19 safety guidelines while in the park