FAYETTEVILLE: Totem Pole Playhouse Presents "Wrong Turn At Lungfish"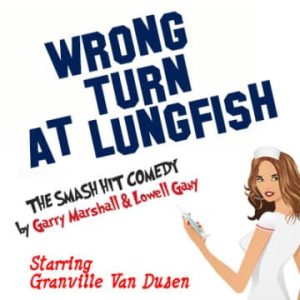 Garry Marshall (creator of "Happy Days" and "Pretty Woman") and Lowell Ganz (writer of "A League of Their Own" and "Parenthood") team up to write a smart and funny play about a blind and bitter college professor and his encounter with a saucy, streetwise young woman who volunteers to read to him in the hospital. The clash of intellect and wit takes the two from animosity and fear to friendship and understanding. Both come to their relationship with questions, hers dealing with her station in life and her handsome boyfriend, and his about past life choices. Both leave with hopeful answers, even after the boyfriend shows up.
Rated PG-13 for adult humor and situations.
August 23 – PREVIEW PERFORMANCE – 8PM
August 24 – PREVIEW PERFORMANCE – 2PM
August 24 – PREVIEW PERFORMANCE – 8PM
August 25 – 2PM
August 27 – 2PM
August 28 – 2PM
August 28 – 8PM
August 29 – 2PM
August 29 – 8PM
August 31 – 2PM
August 31 – 8PM
September 1 – 2PM
September 3 – 2PM
September 4 – 2PM
September 4 – 8PM
September 5 – 2PM
September 5 – 8PM
September 7 – 2PM
September 7 – 8PM
September 8 – 2PM