MERCERSBURG: Fendrick Library – Introduction To The Art Of Quilting
July 12, 2019 @ 5:00 pm

-

8:00 pm
Have you ever wanted to learn to Quilt? Now you can!!! With these affordable classes!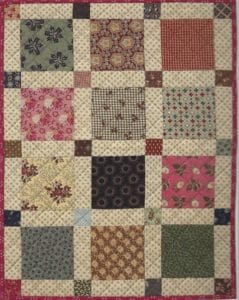 Come and join Nancy J. Walker & Jef Savage to learn basic quilting skills and make a table runner quilt of an historical design. If you've never used a sewing machine before, you will learn how to on these courses. Fabric, batting & thread are included in the course fees. Sewing machines & tools will be available for each participant for each course. (Rostered Artists in PA) FBI, State Police and PA Childline Clearances available on request and will also be available on the Course for inspection).
 Teen/Adult Course $50.00 per person for all 6 sessions 
Children's Course $35.00 per child for all 6 sessions
Teen/Adult (Limit 6 participants per Course)
C 4: Fridays – 5:00 p.m. – 8:00 p.m.
July 19th – 26th
C 5 : Saturdays – 10:00 a.m. – 1:00 p.m.
June 15th – 22nd – 29th – July 6th – 13th – 20th
Teen/Adult (Limit 6 participants per Course)
Course Code, Day, Time and Dates available
Children Grades 3 thru 6 (Limit 12 children). If you have older children who you want to attend, please call and we will do our best to accommodate you.
C 6 : Fridays – 10:00 – 12:00 p.m.
June 14th – 21st – 28th – July 12th – 19th – 26th
Children will learn how to make & hand sew a small wall hanging quilt. The classes will provide experience in geometry & math, helping them develop organization, decision making, &fine motor skills. Parents are invited to sit in with their children.
Reservations
Places are limited so make your reservations as soon as possible. To register or for more information call 717 377 3720 or email DanzaAntiqua@embarqmail.com