PENN STATE MONT ALTO CAMPUS: February 2020 Events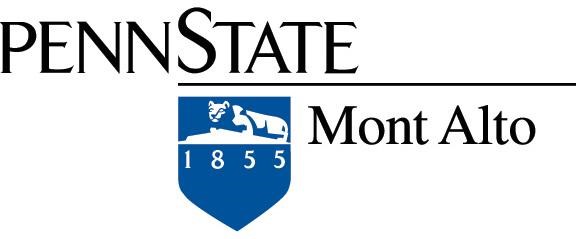 Join us at

February 2020 Events
Open to the public and free of charge, unless otherwise noted.
The Colloquy Series and Campus Symposiums. This series is meant to engage our community, our students, and our facility in meaningful conversation surrounding current events, while representing and respecting diverse voices exploring those issues.  Penn State Mont Alto embraces its role as a community resource, contributing to the democratic process of respectful civil discourse and modeling such for our students.  Past topics have included "Is this Economy Too Good to be True," "The Mathematics of Gerrymandering," and "Employee Health: Helping Behaviors and Diversity." The format includes panels, dissemination of Penn State-initiated research, and audience participation. Topics to be determined.
Faculty and Staff Colloquy Series:
Feb. 12, 12:20 – 1:10 p.m., Heritage Room of the Mill
Mar. 18, 12:20 – 1:10 p.m., Library
Apr. 8, 12:20 – 1:10 p.m., Heritage Room of the Mill
Feb. 17, 12:20 – 1:10 p.m., Wiestling Student Center
Mar. 23, 12:20 – 1:10 p.m., Wiestling Student Center
Apr. 20, 12:20 – 1:10 p.m., Wiestling Student Center
Evening Talk and Star Party: "What Fashion Does to Us:" ― Feb. 17, 7:30 p.m., General Studies Auditorium. Does what we put on our faces, our feet, and everything in between enhance or harm?  Items that promise beauty will be presented for discussion and evaluated as Wow!, Maybe, In a Pinch or Not On Your Life!  Alice Royer, assistant teaching professor in English and Women's Studies, will discuss how fashion can affect not only our social well-being, but also our health or lack thereof.  Weather permitting, Star Party will follow. Kim Herrmann, associate professor in physics and astronomy, will lead the Star Party after the presentation in the field between Orchard Road and the General Studies Building parking lot from 8:45 to 10:00 p.m. Telescope viewing and night sky tours with green laser pointers will be part of the star party activities. Multiple telescopes should be available, courtesy of the TriState Astronomers (tristateastronomers.org), a local amateur astronomy club.  In the event of cold weather, patrons should wear layers of clothing and bring jackets, hats and gloves. Please note that if the weather does not cooperate for viewing, due to precipitation or cloud coverage, the star party may be cancelled.
Launchbox workshop: "What Does it Take to be an Entrepreneur?" ― Feb. 27, 6 to 7 p.m., 40 S. Second St., Chambersburg. Linsey Covert, CEO and founder of TEAMology LLC, will be the presenter. The former educator turned entrepreneur spent her time in graduate school at Penn State researching how a school-wide TEAMwork model might make a positive impact on school climates. After years of piloting and research, and a lot of support from Penn State's entrepreneurship ecosystem, she formed TEAMology LLC. The company offers a first-of-its-kind customized, cloud-based platform to schools that delivers school-wide programming, curriculum, resources and training to help build positive school climates, while also promoting social and emotional learning and school safety. Covert is also an instructor in the Penn State College of Education. Please register: https://montalto.psu.edu/event/LB-workshops
LION Tank competition — March 4, 6 p.m., General Studies Auditorium. Submit your business idea today to compete in this Shark Tank-like competition. Participants will pitch their business ideas, and the top two will receive mini grants and gain access to the Mont Alto LaunchBox for one year. Submit your business idea at https://montalto.psu.edu/event/LB-liontank. Proposal deadline is Feb. 21.
Check out our weather cam: montalto.psu.edu/event/weather-cam.
Cheer the Nittany Lions during their home games! See the game calendar at psumontaltoathletics.com/composite.
Get in touch with your classmates! Penn State Mont Alto alumni who want to contact their classmates can join a class group from the Mont Alto Facebook page at facebook.com/psumontalto. Look for the "groups" link on the left-hand side of the page and click on it to find your class!
* Event updates are noted at https://montalto.psu.edu/event/calendar. Public parking is free during the day in Green Lot 1, across from the Multipurpose Activities Center (MAC). After 5 p.m., the public can park in any available space on campus. However, all handicapped parking spaces require a handicap placard or license plate. The campus map is available at montalto.psu.edu/map.