WAYNESBORO: Arts Alliance of Greater Waynesboro – "Destination ARTS!"
January 12 @ 12:00 pm

-

6:00 pm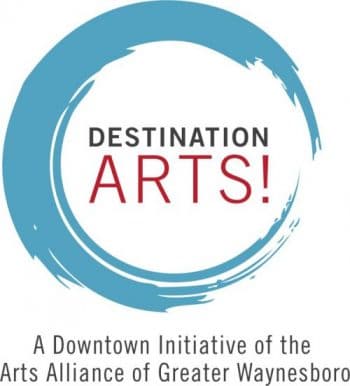 All events are free unless otherwise indicated. Special activities and performances are indicated below. For more information, please visit the website at: www.artsalliancegw.org or contact Kathyrn Gratton at 717-655-2500 or at kgratton@artsalliancegw.org.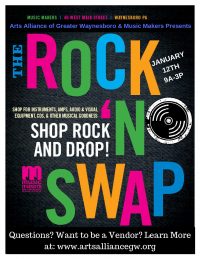 Jan. 12th – Rock 'N Swap: 9 a.m. – 3 p.m. – Music Makers
46 West Main St.
Waynesboro, PA 17268
Come out for our annual Rock 'N Swap music sale where you can buy, sell, or swap your musical items. Santa not bring you what you wanted? There's a chance if its music related, you'll find it at this event. Items for
sale include instruments, amps, AV equipment, CD's, guitar picks and strings, and more! There will also be a "Jam Area" to try out instruments before you buy. Admission is free for those buying or selling/swapping one or two items. Contact Jonathan Ingels for vendor questions at jkingels@gmail.com. For all other questions, contact 717-655-2500.
Jan. 12th – Go With The Flow- Painting Workshop: 10 a.m. to ? p.m. – Walnut Street Studios
117 Walnut St.
Waynesboro, PA 17268
Join local artist Megan Knarr to learn the basics of acrylic flow painting with afford-able products. You'll learn the process and create (4) beautiful pieces of art. The spontaneous nature of this art form is amazing and it is such a meditative practice. Come get messy and go with the flow! More information can be found by emailing mlknarr2013@gmail.com
Jan. 12th – Oil Painting Demo: 12 to 1 p.m. – 42 West Arts Co-Op
42 W. Main St.
Waynesboro, PA 17268
Bring in your artwork and paintings to share with Donna Bingaman. She will discuss painting, value, color, and drawing techniques. Her experience in oil, pastels, and acrylics has won her many awards. She is available to lend her 40+ years of experience to you to help elevate the quality of your work. For more info, call 717-762-8394 or email artsyfolks@embarqmail.com.
Jan. 12th – Potters' Wheel Demo: 1 to 3 p.m. – 42 West Arts Co-Op
42 W. Main St.
Waynesboro, PA 17268
Co-op member Rod Meyer will be demonstrating how to create pottery works using the Potters' Wheel. For more info, call 717-762-8394 or email artsyfolks@embarqmail.com.
January Featured Show at Gallery 50: Known/Discovered- Artful Expressions. Come share and explore the artful expressions created in several mediums by talented artists: Beth Berry, Christine Lehman, Marion Griffin, Colleen Clapp, and Catherine Christopher. The opening night reception will be an unveiling of new works not previously seen, with the artists on hand to discuss inspiration behind the pieces. For more information go to www.artsalliancegw.org/gallery50. An opening night reception featuring music by Across the Pond and wines by Jan Zell Wines is planned for January 11th from 6-8pm.
January Featured Show at 42 West Arts: Miniature Art Show & Small Works. Various artists will participate in 42 West Arts January show.
New Photography Exhibit at 42 West Arts: Images by Drew Clevenger. A freelance photographer raised in Smithsburg, Drew Clevenger has traveled up and down the East Coast capturing images ranging from landscapes to wildlife to architecture. Each image a story he hopes to share with the world.
Destination ARTS! Currently Includes:
Gallery 50 (50 West Main Street)
42 West ARTS (42 West Main Street
The Ceramic Arts Center of Waynesboro (13 South Church Street)
Gallery 35 East (35 East Main Street).
Gallery Hours:
Thursday from 1:00 to 4:00 p.m. (Gallery 50 and 42 West ARTS Co-op only)
Friday from 5:00 to 8:00 p.m.
Saturday from 12:00 to 6:00 p.m.
Sunday from 1:00 to 4:00 p.m.
Musical performances at Destination ARTS! are supported in part by the Arts for All Partnership, a collaboration between the Foundation for Enhancing Communities and the Cultural Enrichment Fund, and the Pennsylvania Council on the Arts, a state agency funded by the Commonwealth of Pennsylvania and the National Endowment for the Arts, a federal agency.
The galleries feature oil paintings, watercolors, pottery, sculptures, jewelry, photographs, furniture, and more. Most art is available for sale and there is no charge for admission to the galleries.