WAYNESBORO: Arts Alliance of Greater Waynesboro Destination ARTS! Schedule of Events & Classes
February 15 @ 5:00 pm

-

8:00 pm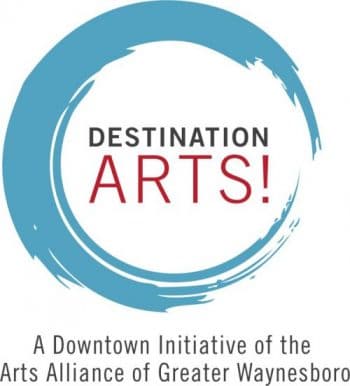 All events are free unless otherwise indicated. Special activities and performances are indicated below. For more information, please visit the website at www.artsalliancegw.org or contact Kathyrn: at 717-655-2500 or at kgratton@artsalliancegw.org.
Destination ARTS! Currently Includes:
Gallery 50 (50 West Main Street)
42 West ARTS (42 West Main Street
The Ceramic Arts Center of Waynesboro (13 South Church Street)
Gallery 35 East (35 East Main Street).
Gallery Hours:
Friday: 5:00 p.m. – 8:00 p.m.
Saturday: 10:00 a.m. – 4:00 p.m.
Sunday: 1:00 – 4:00 p.m.
February 15th – Live Music Fridays: 5:30 to 8 p.m.
Music Makers
46 W. Main St.
Waynesboro, PA 17268
Joel Newman has an eclectic music background, playing and studying everything from blues and jazz to funk and classical. When not performing, Newman teaches music at Duet with Music in Frederick, Md. and records de-mos out of his home studio. For more information, call 717-655-2500 or visit: www.artsalliancegw.org
February 15th – Wine Down Fridays: 5:30 to 8 p.m.
42 West ARTS Co-Op
42 W. Main St.
Waynesboro, PA 17268
Patric Schlee will be playing the flute, hand drums, and more in a relaxed atmosphere. Enjoy the sounds of his flute music as you wander the gallery appreciating the art. Interested in hearing something unique, request Patric to play the didgeridoo and experience the haunting drone of this ancient instrument. Wine and light refreshments will be served. For more information, contact the co-op at 717-762-8394.
February 16th – Potters' Wheel Demo: 1 to 3 p.m.
42 West Arts Co-Op
42 W. Main St.
Waynesboro, PA17268
Co-op member Rod Meyer will be demonstrating how to create pottery works using the Potters' Wheel.
For more info, call 717-762-8394 or email artsyfolks@embarqmail.com.
February Featured Show at Gallery 50: Known/Discovered- Artful Expressions. Come share and explore the artful expressions created in several mediums by talented artists: Beth Berry, Christine Lehman, Marion Griffin, Colleen Clapp, and Catherine Christopher. For more information go to: www.artsalliancegw.org/gallery50
February Featured Show at 42 West Arts: Miniature Art Show & Small Works.
Photography Exhibit at 42 West Arts: Images by Drew Clevenger. A freelance photographer raised in Smithsburg, Drew Clevenger has traveled up and down the East Coast capturing images ranging from landscapes to wildlife to architecture. Each image a story he hopes to share with the world.
Exhibit at 42 West Arts: Works by Carrie Dietrich. Carrie Dietrich has always had an interest in drawing and creating art in various forms. Animals and quirky characters are her focus.
February Visiting Artist at Gallery 35 East: Laura Lewis Shindle. Laura comes to us from Upton, PA and is a member of the Waynesboro, Studio Club. Laura paints in both Oils and Watercolors. Her work will be on display the month of February in Gallery 35 East.