WAYNESBORO: Destination ARTS! – Workshops – Demos – Events
November 10, 2018 @ 12:00 pm

-

6:00 pm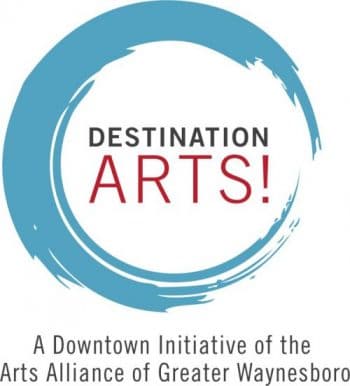 All events are free unless otherwise indicated. Special activities and performances are indicated below. For more information, please visit the website at:

www.artsalliancegw.org

or contact Kathyrn at: 717-655-2500 or at kgratton@artsalliancegw.org.
Nov. 10th – 12:00 p.m. – 1:00 p.m. – Oil Painting Demo – 42 West Arts Co-Op
42 West Main St.
Waynesboro, PA.
Join Donna Bingaman as she demonstrates painting basics with attitude. Donna has 40 + years of experience and enjoys sharing her knowledge with others. For more info, call 717-762-8394 or email artsyfolks@embarqmail.com.
Nov. 10th – 1:00 p.m. – 3:00 p.m. – Loom Weaving Demonstration – 42 West Arts Co-Op
42 W. Main St.
Waynesboro, PA.
Pat Beard will demonstrate weaving on the loom. By combining interesting colors with textures and a touch of shiny yarn, Pat weaves fabrics on old-fashioned looms. Although a number of pieces are woven from the same warp threads, each piece is unique. After weaving, each panel is washed before sewing on old industrial machines. Traditional scarves and shawls are carefully hand finished. For more info, call 717-762-8394.
FEATURED ARTISTS
November Featured Show at Gallery 50: Fall Art Show. Artists: Jan Heath, Rebecca Grace Jones, Sarah Higgins, Vickie Favilla and jeweler Michelle Briddle will be featured in our fall show. For more information go to www.artsalliancegw.org/gallery50.
November Featured Potter at Ceramic Arts Center: Evelyn Wallington. She is co-owner of Magnolia Studios, LLC. Where she embraces her passion for creating hand built functional clay items along with her wife, Claire. Magnolia Studios combines a number of medias with ceramics, including refurbished reclaimed wood into home décor pieces & hand-crafted jewelry, as well as natural spa & pet lines.
November Featured Show at 42 West Arts: The Antietam Photographic Society's Photography. The Antietam Photographic Society of Hagerstown, MD is a photography club comprised of 114 members. Through their monthly meetings, members gather to share techniques and tips and tricks to improve on their skills. Their outings give members a chance to capture images ranging from floral, landscapes, railroads, portraits, transportation, and more.
November All Artists' Show at 42 West Arts: Under the Harvest Moon. All of the members of 42 West Arts will showcase pieces in this show. The show will include all related art in various forms from Donna Bingaman's oil paintings, Denny Bingaman's photography and cold cast bronze, Jennifer Caldwell's jewelry, Rod and Karri Benedict pottery, Hollis Mentzer's work, Pamela Nelson's fabrics, Ed Beard's wood burning, Andy Smetzer's photography, Pat Beard's fiber art, and Steve Semiatin's glass paintings.
Musical performances at Music Makers are supported in part by the Arts for All Partnership, a collaboration between the Foundation for Enhancing Communities and the Cultural Enrichment Fund, and the Pennsylvania Council on the Arts, a state agency funded by the Commonwealth of Pennsylvania and the National Endowment for the Arts, a federal agency.