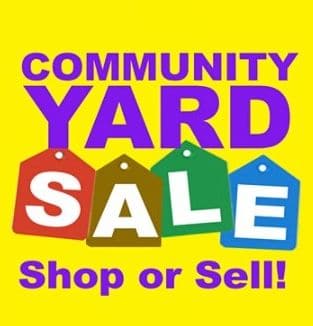 Date
Jun 12 2021
Expired!
Time
8:30 am
Community Yard Sale at 11/30 Visitors Bureau
Saturday June 12th, 2021 * 8:30 AM
Get your table for the Franklin County 11/30 Visitors Center's first yard sale.
About this event
It is YARD SALE time! Turn your spring clean-up items to $$.
The Franklin County 11/30 Visitors Center is offering tables for $10. (Table supplied with two chairs.)
Event is June 12, 8:30 AM. Remember your "junique" is another's treasure.
All are welcome to shop. No entry fee to shop.
The Franklin County 11/30 Visitors Center is located at 15 North Main Street in downtown Chambersburg. It is on the northwest quadrant of the square, next to Central Presbyterian Church. Parking is along the street and in lots off Main Street. Meters are free on Saturdays.
Make it a day: enjoy the North Square Farmer's Market, shopping in downtown, the 11/30 Yard Sale followed by the A Cappella & Unplugged Open Mic in the lobby of 11/30 Visitors Center @ 12:30 PM.
Questions? Please call 717.552.2977 or 866.646.8060.