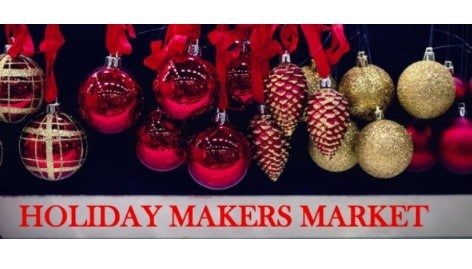 Date
Nov 27 2021
Expired!
Time
9:30 am - 5:00 pm
Holiday Makers Market at Blue Heron Events, Greencastle
SATURDAY NOVEMBER 27, 2021 * 9:30 AM – 5:00 PM
Holiday Makers Market with TriState Events
Unique gifts for that special person on your gift list.
GREETINGS WITH SANTA:
Bring the children or family for a photo with Santa for just $2 children or $5 for family benefiting Toys for Tots of Franklin County.
Session fee includes a treat bag for children.
Photo will be emailed to parent within 24 to 48 hours following the show including additional digit proofs with choice of purchasing digital packages.
Vendor List
1. Book n' Dog Treats w/Kern, Christine
2. Grace & Rose Bows w/Daley, Arista
3. Earrings & Other Pretty Things w/Grohoske, Vickie
4. Funnel N Around w/Kinzer, Taylor
5. Olive Ivy Gifts w/Lubinski, Katie
6. Stuff n' Things w/Smith, Jenna
7. Lindsay's Soy Candles w/Haring, Christina
8. Turn & Splat w/ Kendra, Ami & Michael
9. Kelly's Papercutz & Décor w/Rickard, Kelly
10. Candy's Creations w/King, Candice
11. Appalachian Pen Works w/Rosenberry, Leslie
12. Silver Valley Farms w/ Spoonseller, Jamie
13. MD Designs Bievenour, Marci
14. Fairview Creations w/ Statler, Renita
15. Luci's Pet Pantry w/ Joshua Shores & Roy Weidman
16. Glass Designs w/ Bowen, Michelle
17. Wood Creations w/Smith, Christopher
18. Kim's Custom Engraving w/Harker, Kimberly
19. Two Hearts Customs w/Lanhardt, 21. Jennifer & Kemp, Amanda
SPECIALTY
1. Revive MedSpa & Integrative Medicine w/ Carella, Ashley
OTHER VENDORS
1. Tastefully Simple w/Shearer, Anne
Renewal by Anderson w/Schach, Michelle
2. Paparazzi w/Norman, LaShawna
3. Thirty-One w/Brunner, Cynthia
4. Scentsy w/Deiseroth, Stacey
Sign up for a vendor booth, Here