Fall Is Fabulous
in Franklin County, PA
Take An Autumn Drive!
As Route 30, the historic Lincoln Highway, leaves Chambersburg, it takes on a more rolling, hilly terrain. It becomes more rural and passes orchards, historic Fort Loudoun, and gives a great view of Mount Parnell. The mountains are dabbled in yellow, orange, and red and pop against the bright blue sky. It is autumn in Franklin County.
After passing through the village of Fort Loudon, pick up Route 75. It is a breathtaking drive through Path Valley to Spring Run. Many of the farmers in the area are Amish. Fall is the harvest season, and many of the Amish families are at work in the fields.
From the square of Chambersburg, this is a 35-mile drive in one direction. Retrace the route to return or pick up the turnpike at Willow Hill.
Wineries
Franklin County's newest winery is Jan Zell Winery with a tasting and event room on Grant Street in Chambersburg. Just two blocks from the downtown, the location is housed on the former property of the Cumberland Valley Railroad and offers a chance to enjoy wine with music, games of trivia, and paint projects. Owners Arnie and Laura Jansen mix and match juices to create their exclusive versions of Merlot, Riesling, Chardonnay, Cabernet Sauvignon, and rotating varieties at the Fort Loudon production facility. Plus, Jan Zell's newest items are dry, sweet and hopped hard apple ciders, using local apples from Shatzer's Orchards.
Make It A Wine Weekend!
Enjoy a weekend at one of Franklin County's bed and breakfasts by pairing up with Jan Zell Winery with the orchard wineries of nearby Orrtanna, PA. Visitors can enjoy six wineries within 25-miles and less than an hour of each other. The Orrtanna wineries, just east of Caledonia State Park, are Reid's Winery, Hauser Estate Winery, Adams County Winery, and Halbrendt Winery.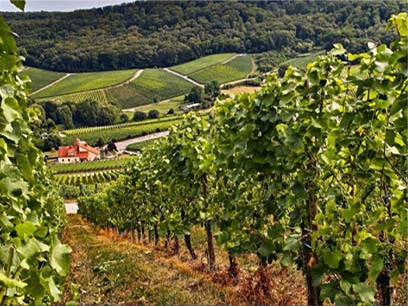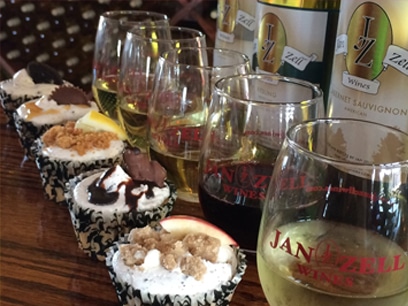 Fall family fun awaits you in Franklin County!
Whether you are getting lost in a corn maze, playing with barnyard animals, or picking your own pumpkins, Franklin County has fall fun. Bring your family to a Harvest Festival or Corn Maze weekend and make great memories.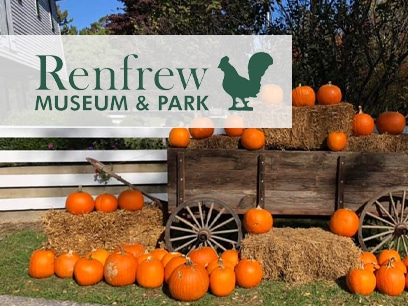 CELEBRATE FALL SEASON WITH
RENFREW MUSEUM & PARK

1010 E MAIN ST | WAYNESBORO, PA
Celebrate with Renfrew all month long with family-friendly activities that includes a pumpkin patch with pumpkins available for purchase, generously donated by Hess Farms and Winterbrook Farms. In addition to pumpkins, scarecrow kits will also be available — with all supplies to make your very own scarecrow, including pants, shirt, newspaper, string, pins, and instructions!  Scarecrow-making is one of Pumpkin Festival's most popular activities and Renfrew is pleased that the tradition can continue under this modified format.
Due to Covid-19, please visit website for updated information.
renfrewmuseum.org/pumpkin-fest
717.762.4723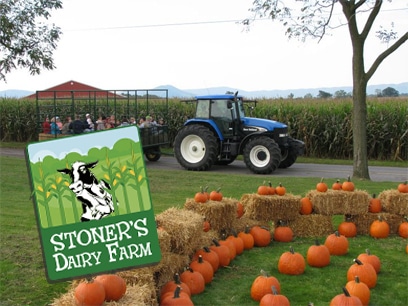 STONER'S DAIRY FARM
& CORN MAZE

7678 OELLIG ROAD | MERCERSBURG, PA
Fun awaits you at Stoner's Dairy Farm & Corn Maze. Wander 5 acres of a themed maze, visit the petting zoo and play area, or take in the beautiful, spacious skies on a hayride. Enjoy a mini maze, petting zoo, pedal cart track, pumpkin contest, farm tours by wagon, magic show, and giant inflatables. Come enjoy a beautiful autumn day in Franklin County, Pennsylvania, and you'll find Stoner's Dairy Farm a memorable experience.
Due to Covid-19, please visit website for updated information.
stonersdairyfarm.com
717.328.3617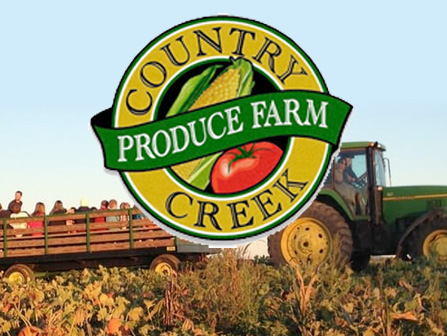 COUNTRY CREEK CORN MAZE
& PUMPKIN PATCH

3794 ETTER RD | CHAMBERSBURG, PA
Spend about 45 minutes in Franklin County's largest Corn Maze with over 4 miles of paths! If you need help, our mailboxes scattered throughout the maze will guide you in the right direction. If you aren't up for the entire maze, don't worry, an exit is set up half way for you to enjoy the other activities.
Due to Covid-19, please visit website for updated information.
countrycreekproducefarm.com
717.729.5343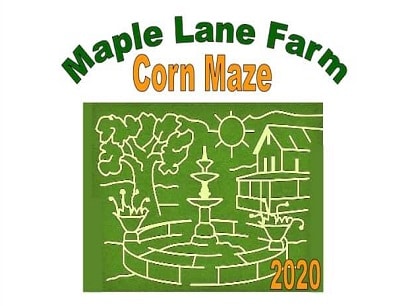 MAPLE LANE FARM & CORN MAZE
150 CROSSROAD SCHOOL RD. | NEWVILLE, PA
Maple Lane Farm has a corn maze with a familiar these for 2020! Visit the farm to see if you can find your way around memorial Fountain! Open Labor Day thru November 1st, you can enjoy the elaborate maze, pony and horse rides, tractor rides, food trucks, wineries and a wide selection of pumpkins and gourds! Follow Maple Lane Farm on Facebook for updates to weekly events and details on the farm here. 
Maple Lane Farm is open Saturdays from 11am – 7pm and Sundays from 1pm – 6pm. Admission is $7.00 and Children 5 and under are FREE!
Contact: 717-462-2669 / jmiller260pm@gmail.com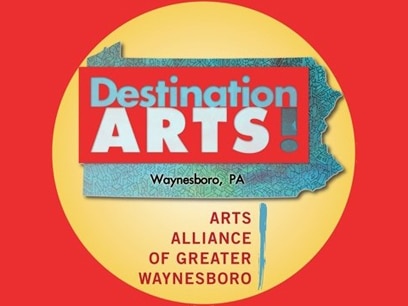 DESTINATION ARTS DOWNTOWN WAYNESBORO
DOWNTOWN WAYNESBORO, PA
Destination Arts! is Waynesboro's special way of revitalizing the downtown. Vacant buildings were converted into curated art galleries. Art is also on display in storefronts. A variety of entertainment each week with special art demonstrations and activities. Art is local, regional, and national. Most is available for purchase.
Due to Covid-19, please visit website for updated information.
artsalliancegw.org
717.655.2500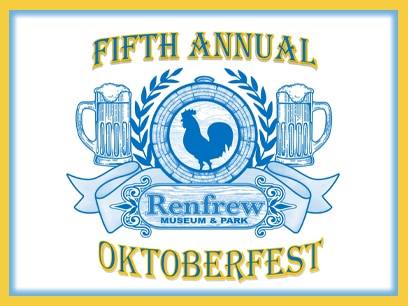 5th ANNUAL OKTOBERFEST
AT RENFREW MUSEUM & PARK

EVENT ENDED
1010 E MAIN ST | WAYNESBORO, PA
September 19, 2020 from 12pm-8pm. Join the fun at this "family-friendly celebration of history and the harvest" on Saturday, September 19th 2020 being held on the beautiful farmstead at Renfrew Museum & Park. Attendees can enjoy a variety of local vendors and artisans, food, music, a silent auction, family fun area for kids of all ages, biergarten tent, museum house tours and so much more!
Due to Covid-19, please visit website for updated information.
renfrewmuseum.org/oktoberfest
717.762.4723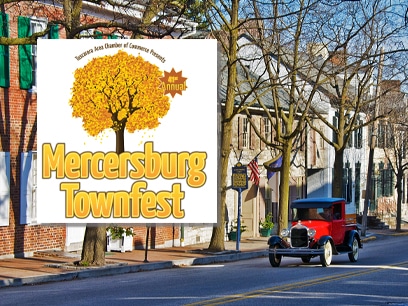 MERCERSBURG TOWNFEST
in MERCERSBURG, PA

EVENT ENDED
DOWNTOWN MERCERSBURG, PA
September 26, 2020 from 9am-3pm, come and join us for our 41st annual Mercersburg Townfest! The event, hosted by the Tuscarora Area Chamber of Commerce, features more than 120 crafters, artisans, culinary and local vendors, entertainment from community and school bands, with a children's fun section on the grounds of the Mercersburg Elementary School.
Due to Covid-19, please visit website for updated information.
mercersburgtownfest.com
717.328.5827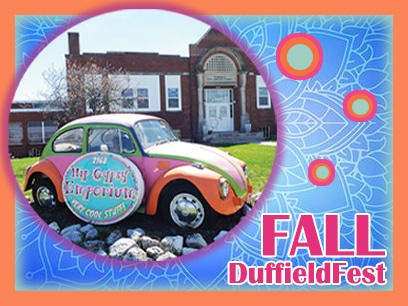 FALL DuffieldFest
in Chambersburg, PA

EVENT ENDED
2168 Mont Alto Rd | Chambersburg, PA
Fall DuffieldFest is set for Saturday, September 26, 2020 from 10 AM to 5 PM. There will be food, crafts, artisans, and upcyclers. The event is rain or shine.
Catch the high energy of JESTER, who will take the Hip Gypsy Stage from 1-4 PM, playing current and classic rock. Dancing is always welcome!
DuffieldFest and Hip Gypsy Emporium are in the former Duffield School, located amid the beautiful farmland along the base of South Mountain
Due to Covid-19, please visit website for updated information.
hipgypsyemporium.com
717.552.1840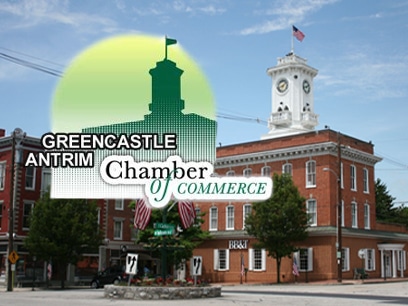 3rd SATURDAYS
IN THE SQUARE!

EVENT ENDED
DOWNTOWN GREENCASTLE, PA
Artisans, crafters, farners and fresh food vendors and food trucks will fill the Greencastle Square for the 2020 season of 3rd Saturdays in the Square. The event runs from June through September and begins on May 16 from 9 a.m. to 1 p.m. in the Square of Greencastle. Handcrafted items, fresh flowers, farm-to-table vendors and food trucks will be offering handmade items and delicious treats.
Due to Covid-19, please visit website for updated information.
greencastlepachamber.org
facebook.com/GACommerce
717.597.4610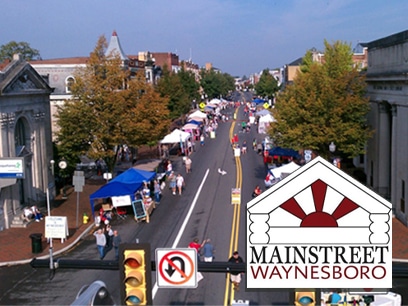 MAINSTREET WAYNESBORO
MARKET DAY

EVENT ENDED


DOWNTOWN WAYNESBORO, PA
October 3, 2020 from 9am-4pm.  Crisp fall weather brings Mainstreet's annual Market Day, always on the first Saturday in October. The event features all-day entertainment, including live music, dancing demonstrations, sidewalk sales, children's activities and dozens of craft, specialty and food vendors. Entries in the annual Scarecrow Contest are displayed along Main Street lamp posts. 
Due to Covid-19, please visit website for updated information.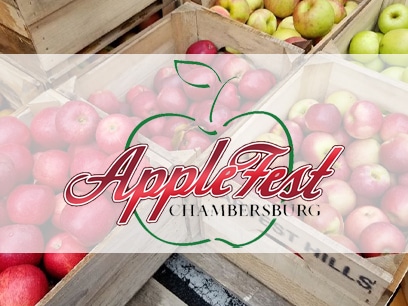 APPLEFEST in DOWNTOWN CHAMBERSBURG
EVENT ENDED
DOWNTOWN CHAMBERSBURG, PA
October 17, 2020 from 9am-4pm come and enjoy: Arts ~ Handmade Crafts ~ Food ~ Kids Activities ~ Music. A fabulous family day where apples take center stage for the day!
Due to Covid-19, please visit website for updated information.
Facebook.com/ChambersburgAppleFest
717.261.0072