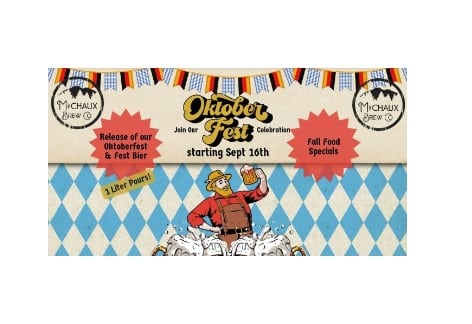 Thursday September 14th – Sunday September 17th, 2023
Thursday: Happy Hour 4:00 PM – 6:00 PM | Trivia 6:30 PM – 8:30 PM and fall menu release
Friday: Happy Hour 3:00 PM – 5:00 PM | Live Music w/Will Wright 7:00 PM – 9:00 PM
Saturday: Oktoberfest Triple Beer Release | $2.00 off kids meals
Sunday: $2.00 off burgers & flatbreads
Come out and join us for the start of our Oktoberfest celebration!
We will be releasing our Oktoberfest and Fest Biers on Saturday September 16th at 12:00 PM when we open.
These beers will be available in 16 oz pours and also 1 Liter sizes!
Our menu will also feature brats with sauerkraut and a few other fun fall items!