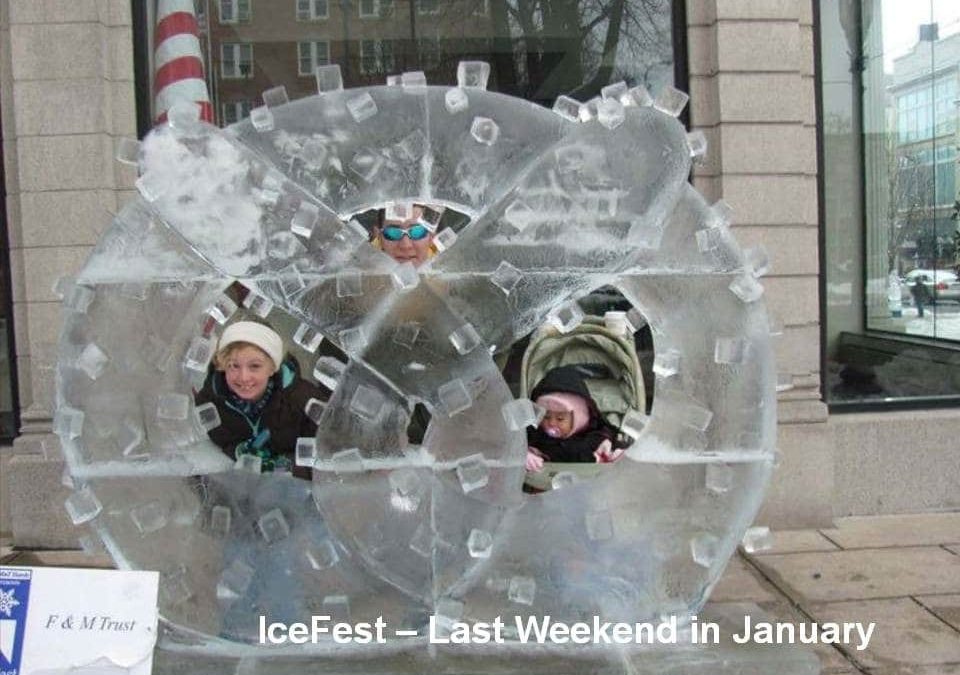 Bundle up and enjoy the 17th Annual IceFest in Downtown Chambersburg, one of the largest winter festivals in Pennsylvania. The 17th Annual IceFest is proudly presented by M&T Bank. This year's festival will kick off at 5pm on Thursday, January 31 and run through Sunday, February 3 and will include 25+ tons of ice plus events that are sure to please almost everyone!
"IceFest comes at the perfect time–at the end of January when everyone is missing the fun of last month's holidays and thinking about how long winter is," stated Janet Pollard of the Franklin county Visitor's Bureau. "But, with a giant ice slide, amazing ice sculptures, a variety of events, twinkling lights, lots of good food and great shopping—winter is fun!"
To kick-off the festivities, a ribbon cutting is scheduled for 5 p.m. on Thursday, January 31 next to the new 11/30 Visitors' Center on the square. You can view all of the single block sculpture and enjoy live carving by the DiMartino Ice Company from 5 to 8 p.m. on Thursday and Friday night. All of the amazing ice sculptures are sponsored by local businesses.
In addition to the ice sculptures, live ice carvings and FREE double-wide ice slide, this year's IceFest has a few surprises for you! We have re-invented our Chili Cook-off. It is now the Chili-Q and will include BBQ as well as chili. We've moved our Live Carve-Off to a "pre-event" on Wednesday night at the GearHouse Brewing Company. Other events held during IceFest include the Snowfall Ball, Icing on the Cake, the Polar Dunk Plunge, Frozen Flicks, the Kids' Zone, Run Your Ice Off 5K, live glass blowing and much more. See the full schedule at www.icefestpa.com or go to our Facebook page, www.facebook.com/icefestpa.
Chambersburg's IceFest has become a regional destination event that people look forward to annually. Visitors come from Harrisburg, Philadelphia, Washington, D.C., and the tri-state area. IceFest is an important community fundraiser for three local nonprofits: Chambersburg Council for the Arts, the Downtown Business Council and Downtown Chambersburg Inc. The Borough of Chambersburg assists these three organizations with coordination of the event along with many volunteers from the local community.
"IceFest gives us a chance to showcase our beautiful downtown and gives our downtown businesses an opportunity to increase their sales during a typically slow season" says Sam Thrush, president of Downtown Chambersburg Inc.
For more information, visit www.icefestpa.com.
Be sure to check out the Franklin County 11/30 Visitors Center and warm up, join a paranormal investigation, check out on-display art, participate in Acappella & Unplugged Open Mic, or take a chance on a raffle for a beautiful quilt. Details here.