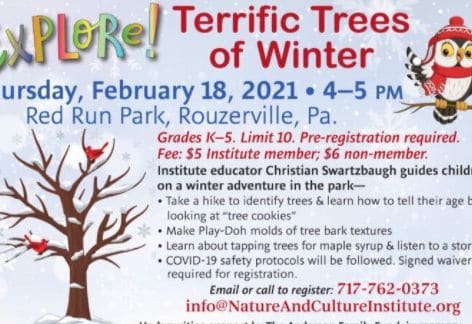 Thursday, February 18th * 4:00 PM – 5:00 PM @ Red Run Park
The group will take a hike to identify trees at Red Run Park, make Play-Doh molds of tree bark textures, discover how to tell the age of trees by looking at 'tree cookies' (cross sections), and learn about tapping trees for maple syrup. A storybook will accompany the syrup portion.
Instructor: Christian Swartzbaugh
Grades: K–5
Cost: $5 member, $6 non-member
Limit: 10
Participants will sign in & complete a waiver/contact form (available HERE).
NOTE: The PDF is fillable—you may type your information onto the form. However, we still need a printed copy, signed by hand.
If you can, please print, sign and scan it back to us at info@natureandcultureinstitute.org (preferred), or print the form, fill it out and bring it along to the event.