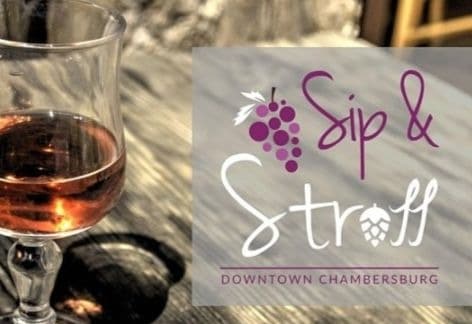 Sip & Stroll, Downtown Chambersburg
November 6th – Time TBD
Join Downtown Chambersburg Inc. for Sip & Stroll, Saturday, November 6th, Time TBD! This fundraising event combines all that we love about downtown Chambersburg! Experience downtown as it's meant to be experienced – while strolling! The event will have two "waves" of ticket holders (due to COVID-19).
Downtown and local businesses and vendors have paired up to offer some of the best beer our area has to offer! Ticket holders will stroll around the downtown, visiting different businesses and tasting a variety of beer!
​

Vendors include (so far) Rough Edges Brewing Company, GearHouse Brewing Company and 633 Brewing Company. This list does not contain every vendor. Please check out our Facebook Event Page for more information  or our website
​

Event is rain or shine! However, should we receive a major storm, please check our social media for rescheduled date & time.  All proceeds from this event support the mission of Downtown Chambersburg Inc.