A Beautiful and Relaxing Day of Golf is waiting for you in Franklin County, PA
Caledonia Golf Course
18 Hole | No tee time required
9515 Golf Course Rd, Fayetteville, PA 17222
Off Route 30, behind Totem Pole Playhouse
About the course: A beautiful, challenging course in Caledonia State Park and one of the county's oldest courses. With tree-lined fairways at the base of South Mountain, it is not uncommon to see wildlife walking on the course, especially deer. The location along the mountain and the many trees help to keep golfers cool on a hot day. Golf Course Superintendent Andy Grove says it is "Franklin County's coolest course," as much as 10 degrees cooler than other parts of Franklin County. Check for Seniors and First Responder specials.
717.377.3295
caledoniagc.com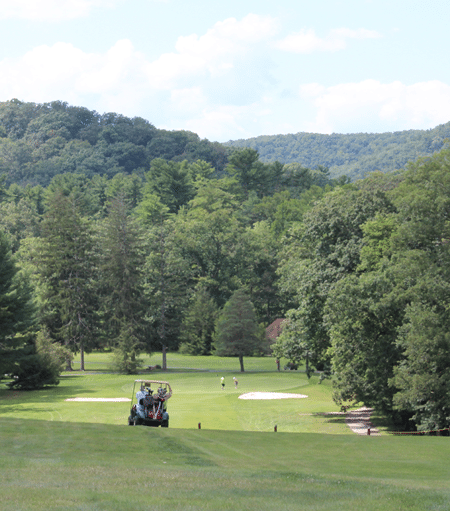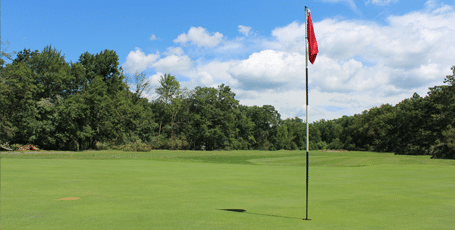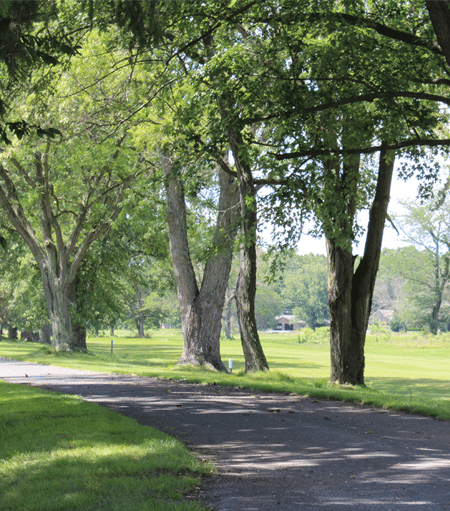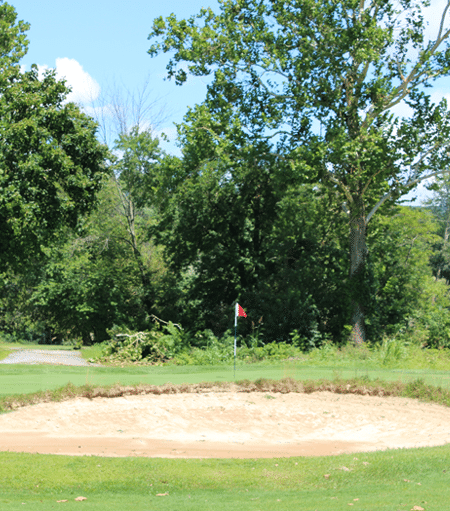 Conocodell Golf Club

9 Hole | No tee time required
112 Coldspring Rd, Fayetteville, PA 17222
About the course: Golfers at "The Dell" like the adaptability of the course. Great for a family golf outing, beginners, seniors, and golfers working on their game. Surrounded by lighted wooded beauty with views of South Mountain, it is a fast and flat course with friendly, helpful staff.
717.352.3222
conocodellgolfclub.com.
Greencastle Golf Club

18 Hole | No tee time required
2000 Castlegreen Dr, Greencastle, PA 17225
About the course: 2017 celebrated 25 years of golf at Greencastle Golf Club. A well-maintained and challenging course on more than 200 acres, with lovely mountain and farmland views. The third hole is an uphill hole with a waterfall. Onsite the Fireside Pub offers breakfast, Yuengs and wings, plus more.
717.597.1188
greencastlegolf.com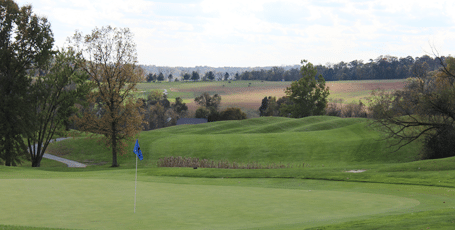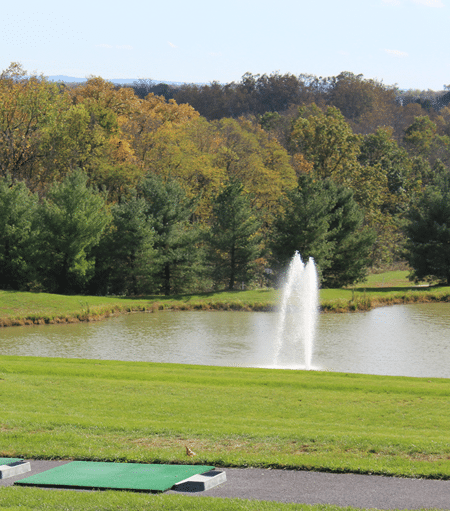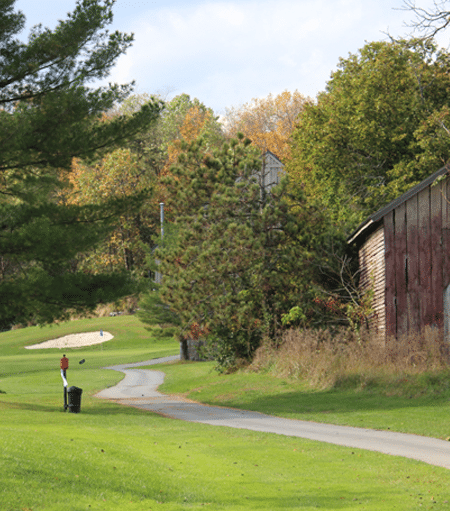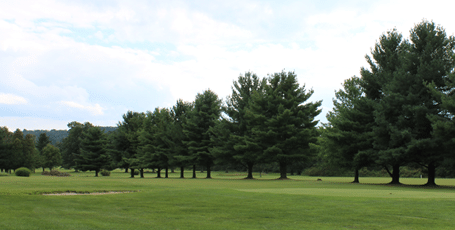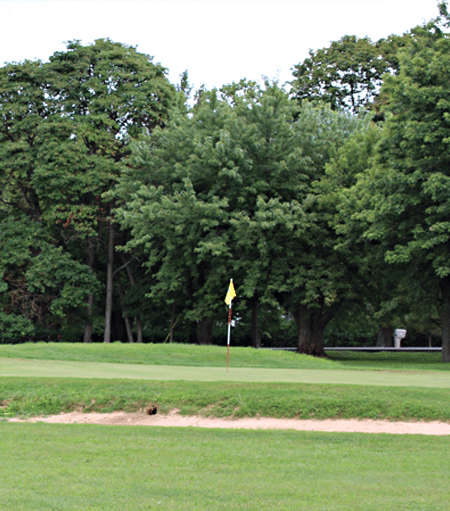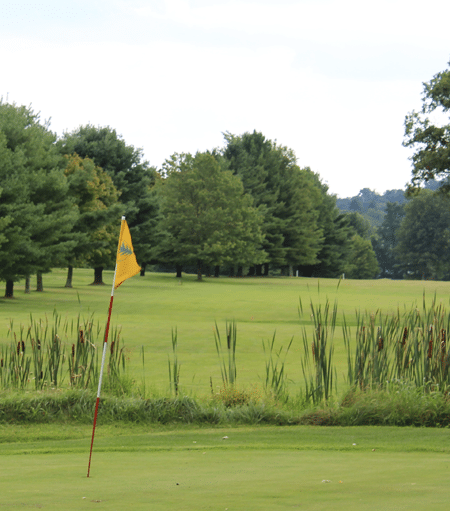 Monterey Country Club

9 Hole | No tee time required
12579 Monterey Lane, Blue Ridge Summit, PA 17214
About the course: Monterey is the oldest golf course in Franklin County, and one of the oldest in the United States. The first hole crosses a brook; the seventh a bowl green. It tests the accuracy and technical knowledge of golfers.  The course is also historic. The first hole adjoins the road where Confederate retreating from the Battle of Gettysburg clashed with Union troops in the Battle of Monterey Pass on July 4-5, 1863. Nearly one hundred years later, President Dwight Eisenhower would play the course.
717.785.1234
montereycountryclub.net
Penn National Golf Courses

18 Hole | Tee time required
3720 Club House Dr, Fayetteville, PA 17222
About the courses: Penn National has two great courses, Founders Course and Iron Forge. It is the double play of the east coast with spectacular views of South Mountain.
Founders Course is the original course at Penn National, laid out by course architect Edmund Ault. It opened in 1968 and was updated in 2006. A beautiful and well-managed course with lots of trees, it challenges golfers to apply their experience and knowledge. Golf Digest rates the Founders Course 4-Stars. Zagat rating is 27 points.
Iron Forge, designed by architect Bill Love, opened in 1997. It parallels the South Mountain, offering fantastic views, few trees, and a variety of terrains. Golf Digest rates the Founders Course 4-Stars. Zagat rating is 25 points.
Founders Grille Restaurant is open for breakfast, lunch, and evening meals, BYOB.
717.352.2400 | 800.231.0080
penngolf.com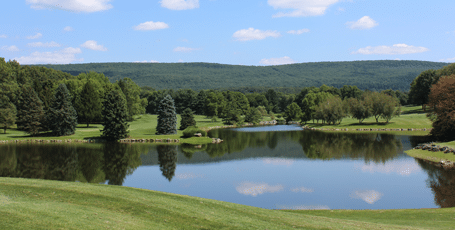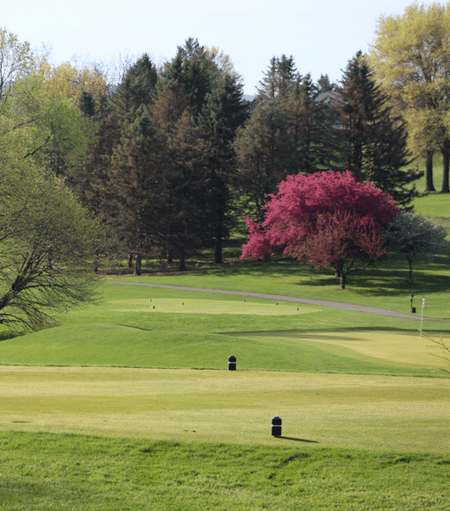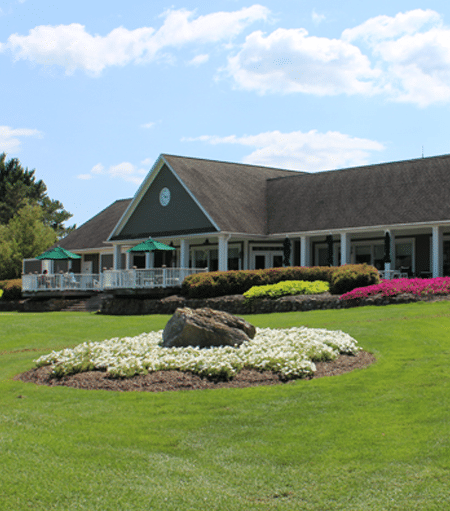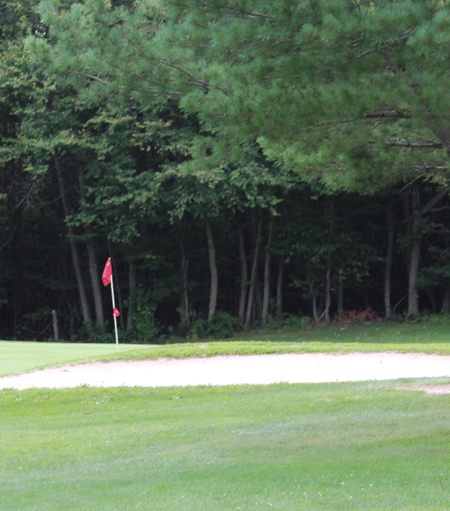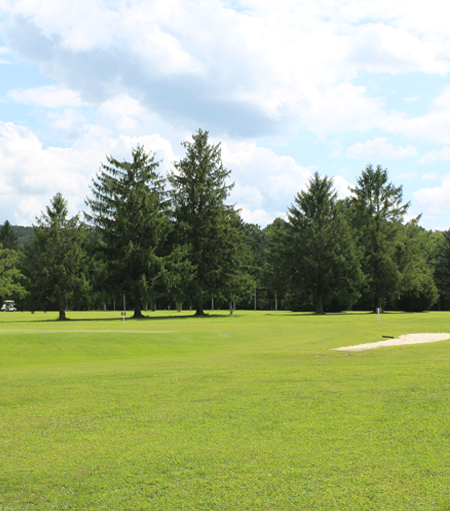 South Mountain Golf Course

9 Hole | No tee time required
9632 Swamp Rd, Fayetteville, PA 17222
About the course: In 1921, doctors of the South Mountain Sanatorium built three golf holes next to the sanatorium. Over the years, it grew to a 9-hole public course. Recent changes to the course have added difficulty, particularly the last three holes. It is hard to find a hole that does not have a spectacular view.
717.749-3286
smgolfpa.com
Whitetail Golf Resort

18 Hole | Tee time required
11573 Blairs Valley Rd, Mercersburg, PA 17236
About the courses: Every hole on the course has a spectacular view! Designed by Rick Robbins to use the natural topography of the land, golfers of all levels find the course challenging and motivating. It combines a links style and a mountain style. Whitetail offers a variety of breakfast, lunch and dinner options for golfers. Spread the word, Whitetail is great golf with stunning views of Tuscarora Mountain.
717. 328-4169
golf.skiwhitetail.com