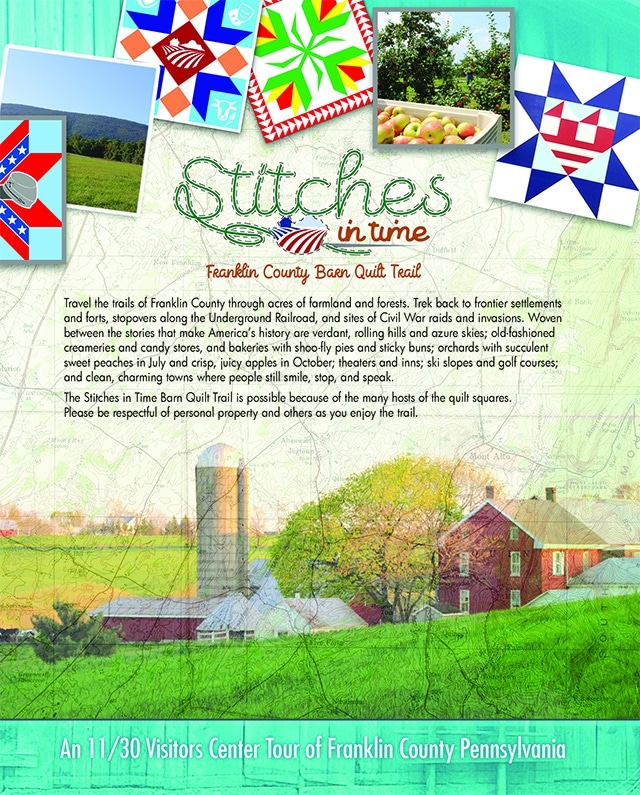 The Stitches in Time Barn Quilt Trail includes more than three dozen quilt squares spread throughout Franklin County, PA. Some are inspired by traditional quilt patterns or family designs. Others tell a piece of local history or family stories. Between each square are the many stories of Franklin County.
Barn quilt trails are in 45 states and even extend across the border into Canada. Barn quilt trails showcase communities, share beautiful landscapes, and commemorate family and friends.
The Stitches in Time guidebook begins at the Franklin County 11/30 Visitors Center, but you can start the trail anywhere. Enjoy the beauty of Franklin County, the stories of the quilt squares, beautiful views, and some history between each host site.
From the earliest days, when hunter-gatherers roamed the area that is called Franklin County, it offered bountiful resources, plenty of water, and a mixture of flora and fauna. The majority of the early settlers were Scots-Irish and German immigrants. By the time the county formed out of Cumberland County in 1784, Franklin County had about 13,000 residents.
Today, Franklin County has just under 155,000 residents and offers:
• 70 sites recognized by the Pennsylvania Historic Museum Commission
• National Register of Historic Places historic districts in downtown Chambersburg, Greencastle, Mercersburg, Shippensburg and Waynesboro
• Three National Park Service Network to Freedom sites
• Appalachian Trail Community in Waynesboro
• Three active arts alliances, two ceramic centers, and four art co-ops
• Four performing art venues
• Three environmental centers
• Four state parks, including the two oldest in Pennsylvania
• More than 10,000 acres of preserved farmland
Frequently asked questions about Stitches in Time Barn Quilt Trail
What is a barn quilt?
A Barn Quilt is a painted quilt square mounted on the side of a barn or other structure. It can be a business, a home, an historic property, a shed, or any structure. It can be a traditional pattern or a one-of-a-kind design. It is meant to grab the attention of people driving by the property and help to share more about the past and present of Franklin County.
How big are barn quilts?
It depends on how close the road is to the property with the square. They range in size from 8'×8', 4'x4' or 2'x2'. Smaller barn quilt squares can be mounted on sigh posts, which makes hosting the quilt square quite flexible.
What is a barn quilt trail?
It is a collection of painted quilts that help local residents and visitors to explore Franklin County in a different way. It also pays tribute to the importance of farms and farming in Franklin County—past and present, while hoping to secure the future of farm and farmland in Franklin County.
Help us get the word out!

If you are interested in helping us get the word out about Franklin County's new Barn Quilt Trail contact us for flyers and postcards or download them via the links below.
Download: Stitches In Time Barn Quilt Flyer
Why host a barn quilt square and be part of a barn quilt trail?
Preserve the beautiful barns of the county
Take pride in the contributions of agriculture
Educate others on the value of living in a rural and agricultural county
Share the traditional art of quilting
Create a different way for visitors to enjoy exploring Franklin County year-round
Celebrate local history and culture.
How can I get involved in the Stitches in Time Barn Quilt Tour?
Contact the Franklin County Visitors Bureau at 717.552.2977 or 866.646.8060.
Download the application to get started and submit to the Franklin County Visitors Bureau by emailing jpollard@ExploreFranklinCountyPA.com.
Or drop/mail the form to the Franklin County Visitors Bureau, 15 South Main Street, Chambersburg, PA 17201.
Stitches In Time Barn Quilt Trail
The first official Barn Quilt trail was developed in 2001, and since then it has become a growing trend in America.  We invite you to join us on this journey of combining beautiful artwork with the scenic beauty and vistas of Franklin County, PA. Interested in creating and/or hosting a barn quilt square? Download the application here or contact our office: 717.552.2977