Silent auction bids can be placed in person, via phone at 866-646-8060 or by emailing fcvbfestivaloftrees@gmail.com.  Current bid amounts will be updated online daily.  Final bids for the silent auction will close at 7:45 PM on December 6 with winners being announced at 8 PM.
Please see below for current high bids.
CONGRATULATIONS TO THE FOLLOWING WINNERS!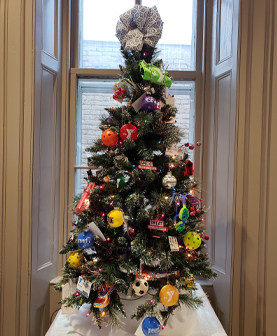 Tree A
YMCA
Merry FitMas
The Y helps people and families build and maintain healthy habits for spirit, mind, and body in their everyday life. Whatever your heart desires, the YMCA has it: Wellness Programs, Swim Lessons, Personal Training, and so much more.
Stop by and visit the YMCA's holiday tree! The YMCA's Merry FitMas Tree will feature a variety of fitness options. Giveaways to include: a three-month family membership, three individual personal training sessions, YMCA apparel and water bottle.
Becky K.
Winning Bid: $50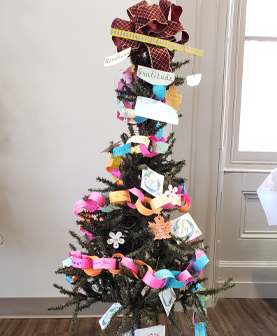 Tree B
Community Uniting

"Kindness-Gratitude-Love for all Seasons!"
This tree is decorated with items made by children and adults attending Community Uniting! booths at local festivals – it represents deeds and intentions of ways to show Kindness, Gratitude, and Love to our Families, our Community, and our Earth. We have included some "blanks" to let you add your own thoughts. Community Uniting! is "People of goodwill coming together with the desire to build personal relationships across faith, race, gender, and politics to strengthen our community.
Leslie H.
Winning Bid: $30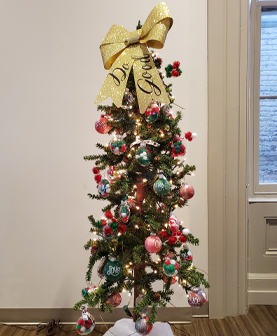 Tree C
OSI

"Do Good"
The OSI tree is adorned with hand decorated ornaments made by the talented individuals at Occupational Services Inc. (OSI). OSI's mission this year is to "Do
Good" in our community by supporting and embracing people of all abilities! The handmade ornaments each have an encouraging word to inspire this Christmas season. In addition to the beautiful ornaments, you will receive a coupon for a free
box or bag of shredding, a $10 OSI Print Shop certificate, a "Do Goodie" bag and $50 Butcher Shoppe Butcher Bucks!
Linda M.
Winning Bid: $110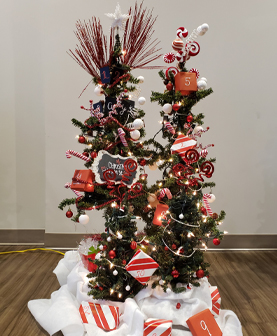 Tree D
F&M Trust

12 Days of Christmas on Main Street
Celebrate the 12 days of Christmas on Main Street Chambersburg with F&M Trust. Experience a unique treat from one of our many downtown shops every day before Christmas. Go out on the town with dinner at Falafel Shack, Bistro 71 or Square One. Enjoy a bite of something sweet from Olympia Candy Kitchen, Denim Coffee or Brussels Cafe. Stay cozy with little gifts from The Gift Enclosure, Another Man's Treasure and Northwood Books. Happy Holidays from F&M Trust!
Jessica P.
Winning Bid: $140
Tree E
Save-A-Pet
Save-A-Vet

Dogs for Veterans
The Save-A-Vet, Save-A-Pet tree has gone to the dogs! Our four-legged friends are represented on here! Doodles, Labradors and German Shepherds are several of the breeds used in our program here in Franklin County, and can be seen on the tree. Other ornaments on the tree show our love for the dogs.
Jen S.
Winning Bid: $50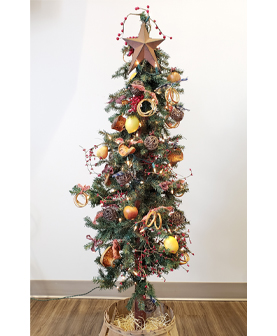 Tree F
Renfrew Museum

Christmas on the Farm
Embodying simple joys of an old-fashioned country Christmas in beautiful Franklin County, this tree is adorned with bits of homespun, fruit, and natural elements as a reminder of the gifts of the land, along with our shared agricultural heritage. Renfrew's historic German-American farmstead in Waynesboro invites guests to "Walk Back in Time" through over 200 years of celebration at our annual Christmas on the Farm event on December 6, 7, & 8, 2019. The winner of this tree receives four (4) tickets to attend on the date of your choice. Visit our website at renfrewmuseum.org/christmas to learn more.
Nancy F.
Winning Bid: $50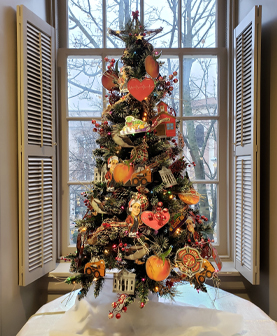 Tree G
Chambersburg Chamber
of Commerce

Chambersburg Chamber of Commerce
Cheers from Chambersburg! Our tree represents the thriving industries of Chambersburg ranging from economic development, business, education, tourism, agriculture and everything in between. The ribbon woven throughout the tree symbolizes the vibrant people of Chambersburg who are responsible for making our community shine. On behalf of the Greater Chambersburg Chamber of Commerce, thank you for your contributions that have enhanced the quality of life in our region. Wishing one and all a very merry Christmas!
Mary H.
Winning Bid: $80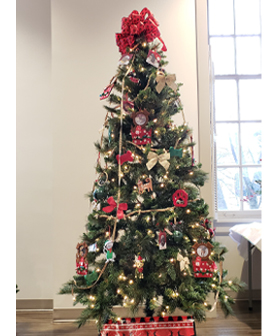 Tree H
WellSpan

Holly Jolly Paws
Animals can make life better for people of all ages and needs! We encourage you to consider volunteering with or adopting a pet from a local animal shelter. The animals featured on our tree are currently looking for foster care and/or adoption. Please contact the Cumberland Valley Animal Shelter (CVAS) for more information on these animals, or partner with a shelter near you! Have a blessed holiday season from all of us at WellSpan SPS.
Anonymous Donor
Winning Bid: $80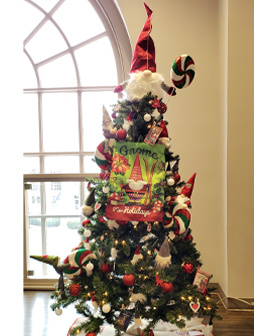 Tree I
Totem Pole Playhouse

Gnome for the Holidays
Everyone loves to be "Home" for the Holidays, but why not Gnome instead? These cute creatures are known as symbols of good luck. Originally, gnomes were thought to provide protection, especially of buried treasure and minerals in the ground. They are still used today to watch over crops and livestock, often tucked into the rafters of a barn or placed in the garden.
Gnomes even have their own holiday; International Gnome Day was instituted in 2002 and is celebrated on June 21st by over a dozen countries.
The history of garden gnomes is unique, long, interesting, and even comical. They may always be popular and will likely survive and live in peoples' gardens and Christmas Trees for centuries to come.
The Totem Pole Playhouse is "Gnome/Home" to many during the summer and we are happy to have decorated this magical tree for this festival.
Donald D.
Winning Bid: $210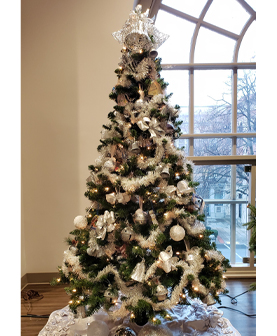 Tree J
Franklin County's CTAs

Silver Bells
Silver Bells is the over-arching theme of the Franklin County CTA Tree. When we think of Christmas time in Franklin County, the song "Silver Bells" comes to mind.
And since it's a Franklin County theme, the tree is adorned with ornaments that display the major towns in Franklin County and highlights what makes Franklin County unique-the festivals, history, food and people.
Tina P.
Winning Bid: $90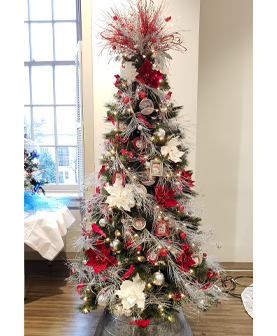 Tree K
WellSpan
"Best of Show" Winner!

The Great Neighbor Tree: Inspiring Hope and Health
Our 2019 Christmas tree baptized The Health and Harmony Tree: Good Neighbor Inspiring Health and Harmony depicts our organization's ideals and wishes to our community, patients and employees during this magical and Disney-like season. It symbolizes our strategic objectives for a diverse, engaged, positive, joyous workplace where our professionals can offer excellent patient experience to everyone who seeks care at Wellspan Chambersburg Hospital. As we celebrate this bright and colorful period full of hope and inspiring health, we wish you all a Merry Christmas and Happy Holidays filled with peace, love, joy and harmony!
Sherri S.
Winning Bid: $150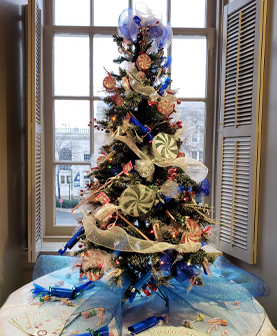 Tree L
Greencastle-Antrim
Chamber of Commerce

Candyland Christmas
The theme for the 2019 Festival of Trees is "Candyland Christmas". Presented by the Greencastle-Antrim Chambers of Commerce, this tree is covered with colorful treats that will look good enough to eat!
Pam J.
Winning Bid: $50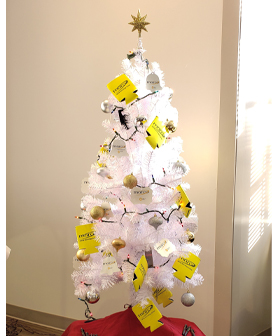 Tree M
Marco
Marco Tree
Marco is one of the largest technology providers in the country with over 32,000 clients throughout the nation. We specialize in business IT services, copier/printer solutions and managed and cloud services. Our technology experts break down complex solutions into simple terms to position your business for success.
Stronger communities…We believe "doing good" is just as important as doing well. So we are committed to giving back to the communities we serve. We contribute financially, sponsor events, participate in fundraisers and encourage fundraiser and encourage employees to volunteer on and off company time.
Tanner M.
Winning Bid: $45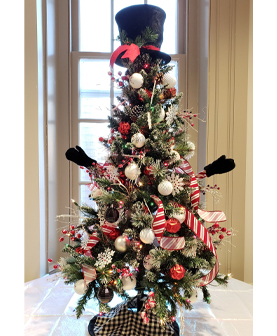 Tree N
Waynesboro Chamber
of Commerce

Mr. Snow It All
Wishing you a safe and happy holiday season! May your holiday be filled with good cheer, health, and warmth of family.
Cheers! from the Waynesboro Chamber of Commerce.
Ruth L.
Winning Bid: $70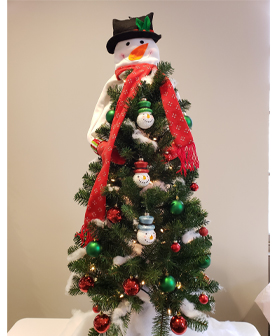 Tree O
Holiday Inn Express

The Wise Snowman
Be a Jolly Happy Soul. Spend time outdoors. Stay cool. Don't get too much sun. Everyone "nose" carrots are good for you. Remember we are all a bit flaky. Avoid meltdowns. It's OK to be a little bottom heavy. Be well rounded. Live well, life is short.
Snowflakes are one of nature's most fragile things, but just look what they can do when they stick together.
Danielle H.
Winning Bid: $165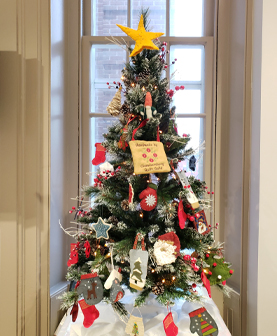 Tree P
Chambersburg Quilt Guild
Chambersburg Quilt Guild
This beautiful tree has taken a "Homespun" approach to Christmas! The 4.5 foot pine tree with berries is dressed with primitive lighting, pinecone garlands, and hand embroidered wool ornaments! The Quilt Guild sends its handmade talent to The Hennessy House to offer comfort and love to all who shelter there!
Wendy A.
Winning Bid: $85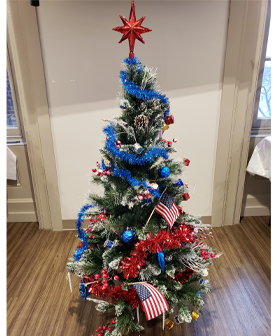 Tree Q
Cub Scout Pack 125

Cub Scout Pack 125
Cub Scout Pack 125 decorated our tree in a red,white and blue (patriotic theme) in honor and memory of all the Veterans who have served our country and for the men and women who are currently serving. Thank you for your service.
Tammy S.
Winning Bid: $50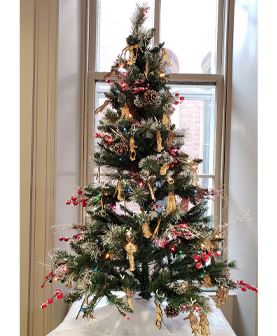 Tree R
Engraved Memories Plus

Engraved Memories Plus
May the force be with you this Christmas season. This tree has been decorated with various Star Wars characters by Engraved Memories Plus. Princess Leah to Han Solo and Darth Vader and many more of your favorites are included. There are 36 different Star Wars ornaments on the tree.
Anonymous Donor
Winning Bid: $50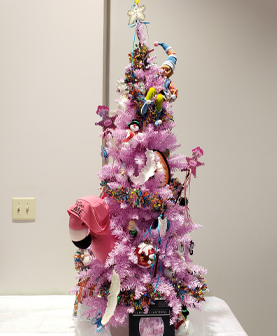 Tree S
Hip Gypsy Emporium
Hip Gypsy WISH TREE!
In honor of those we love and lost or are battling cancer, we dedicate the Hip Gypsy WISH TREE! Make a Wish and may all your dreams come true. WISHES of love and peace from Hip Gypsy Emporium.
Tina P.
Winning Bid: $50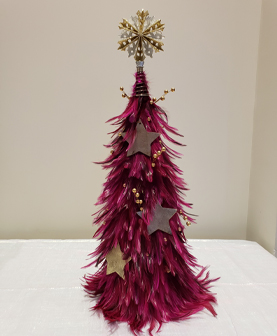 Tree T
Star Theatre

Star Theatre
This burgundy feather tree adorned with gold stars is just a small representation of the beautiful, historic Star Theatre in downtown Mercersburg, PA. The theatre was built in 1911 and opened in 1912 to the public. It was the home of events such as live productions, silent movies and matinees. Star Theatre is now under new ownership with Marcus and Bobbie Abernethy. They host FREE ADMISSION, family friendly and faith based movies on a regular basis. They also host live shows on Thursday afternoon throughout the year! Visit their website at www.startheatrepa.com for more information.
Becky K.
Winning Bid: $32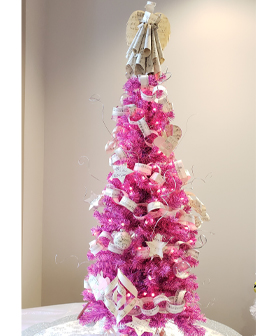 Tree U
Cumberland Valley
School of Music

Cumberland Valley School of Music
Cumberland Valley School of Music is Tickled Pink with Music! Our tree is decorated with ornaments made by CVSM staff from upcycled sheet music. We've made 3-D ornaments, hand lettered shapes, decoupage balls, paper chain and it is topped with a hand-crafted angel of music. Also included are two gift certificates: One $10 to the CVSM store and one $10 towards classes or lessons.
Janet P.
Winning Bid: $50
Wreaths
wreath stands are not part of auction
Wreath 1
Menno Haven Chambers Point
Health Care Center
Joy to the World
The Lord has come…and heaven and nature sing. A large white letter J with an angel on the top of the letter announces the good news of Great Joy! A miniature grapevine wreath representing the O holds the manger scene reminding us of a humbling birth following a large white Y with a small cardinal looking on. A gold star is placed over the manger scene which guides us to the Christ child. On the right side, there are a couple of snowflakes falling on a white church bird house decorated with gold bells and red berries. A red bird is close by nestled among berries and a snow dusted pinecone. Along the left side of the wreath, carolers are standing in song with strips of music sheets which is outlined with holly and glimmering red berries. The final touch is a large glittering bow.
Pam J.
Winning Bid: $40
Wreath 2
Friends of Franklin County
Visitors Bureau

On the Wings of Winter
Winter gives us a chance to enjoy ice skating, snow birds and the beauty of a snow-covered landscape. May the beauty of the holiday season continue throughout the winter days ahead.
Dianna H.
Winning Bid: $30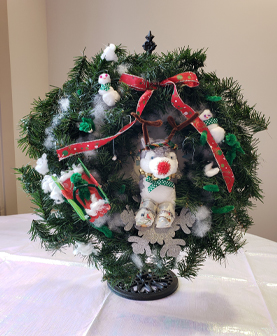 Wreath 3
Hamilton Heights Elementary
"Best of Show" Winner!

Hamilton Heights Elementary
The Hamilton Heights (HH) Elementary Fifth Grade Leadership committee volunteered their time to decorate a wreath. In the spirit of the holiday season, the students crafted this cheery wreath using different types of scrap materials to create a snowy scene. The students then chose to include their school mascot (a Husky dog) dressed up as Rudolph the Red Nosed Reindeer. Snowmen and snowflakes cover the scene, along with merry children having a snowball fight around the edges of the wreath. HH students are practicing citizenship with this fun project. We hope you enjoy this beautiful and decorative wreath.
Paula B.
Winning Bid: $45
Wreath 4
Menno Haven Chambers
Point Assisted Living
Sweetheart Wreath
Fall in love with this subtle and beautiful, perfectly pink wreath adorned with a brightly red colored bow decorated with white and red sparking hearts. This sweetheart wreath is beautifully designed with a spread of blooming white rose buds, a touch of baby's breath and 3 small white feathery love doves. This wreath is must have to remember your special sweetheart this Valentine season. Show your friends and family how much they are loved by spreading the love, joy and peace this wreath will bring to your home.
Barbara H.
Winning Bid: $35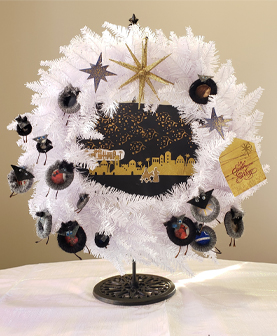 Wreath 5
Christian Missionary
Alliance Kids Club

Let Earth Receive Her King
Imagine Mary and Joseph travelling to Bethlehem under the starry sky! The sheep are gathered in the nearby country side. Everyone is awaiting the coming king! The bright star will guide the wisemen to baby Jesus. Let Earth receive her King! The beautiful handmade background and ornaments adorning this wreath were made by children in Kindergarten through Fifth Grade who attend Christian and Missionary Alliance Kingdom Kids Club on Wednesday nights.
April M.
Winning Bid: $30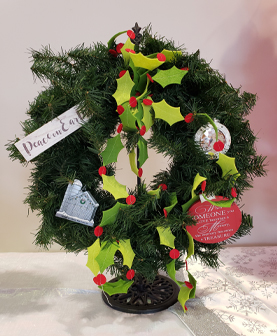 Wreath 6
William F. Sellers
Funeral Home

William F. Sellers Funeral Home
This wreath represents the values of the Christmas Holiday… Peace to all… family, as there is nothing better than being with your family at Christmas and finally, memories. Memories are made each time we gather with friends and family. Each time your friends and family open your door and see the wreath, may they be reminded of the peace of the season, the family they are with and the memories they will create to share for generations to come.
Barbara H.
Winning Bid: $30
Wreath 7
Friends of Franklin County
Visitors Bureau
Holly Jolly Christmas
Have a holly jolly Christmas, it's the best time of the year! This jolly pink wreath is brightly and festively decorated by 9 year old Ashlynn of Chambersburg. Most of the ornaments were donated from her personal collection and would brighten any area of your home. Take time to say hello to friends you know and everyone you meet! And oh by golly have a holly jolly Christmas this year!
Becky K.
Winning Bid: $35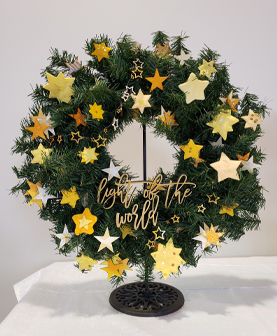 Wreath 8
Church of Jesus Christ
of Latter-Day Saints Young Women

Light of the World
Our church does a yearly worldwide Light the World service initiative during the Christmas season, and inspired our wreath; the star decorations made by our youth reflect the hope and light of the Christmas season in honor of Jesus Christ, the Light of the World.
Tracy S.
Winning Bid: $30