Franklin County Fright Sites
Franklin County Fright Sites
Hauntings & History
Franklin County PA is home to many legends, chilling stories and strange sightings. Keep alert as you tour these sites, and you may just have a tale worthy encounter!  Have a little Halloween fun and explore some local lore.
Is it fact or is it fiction? Visit if you dare.
Sneak peak to Franklin County's 10 Fright Sites…Be WARNED!!!
You can pick up a copy of the tour at the Franklin County 11/30 Visitors Center
VISIT IF YOU DARE
More SPOOKY FUN in Franklin County!
SHIPPENSBURG HALLOWEEN PARADE

Tues. Oct. 26th
7pm – 10pm
Join the fun and celebrate this spooktacular season at the 33rd Annual Shippensburg Halloween Parade! Dress up and enter to win cash prizes in the individual or theme group divisions. Individual registrations will begin the night of the parade at 5:30pm at 129 East King St. Deadline for group submissions has passed, late entries will be filtered in at the end.  
Hosted by the Shippensburg Kids Events Committee
FRANKLIN COUNTY TRICK OR TREAT NIGHTS
Halloween falls on Sunday, October 31, 2021.  
Trick or Treat Dates for 2021 – Listed below
Greencastle Borough:  Thursday, October 28, 2021, 6:00 PM – 8:00 PM, Rain Date Friday, October 29th, 2021 6:00 PM – 8:00 PM
Shippensburg Borough:  Saturday, October 30, 2021, 6:00 PM – 8:00 PM

Southampton Township, Franklin County:  Saturday, October 30, 2021, 6:00 PM – 8:00 PM
Newville Borough:  Thursday, October 28, 2021, 6:00 PM – 8:00 PM
Chambersburg Borough: Sunday, October 31, 2021, 6:00 PM – 8:00 PM
Mercersburg Borough: Saturday, October 30th, 5:00 PM – 7:00 PM
Greene Township, Franklin County:  Sunday, October 31st 2021, 6:00 PM – 8:00 PM
Waynesboro, Franklin County:  Sunday, October 31st 2021, 6:00 PM – 8:00 PM
NIGHTMARE ON KING STREET
THE HAUNTED JAIL RETURNS
7-10pm October 22, 23, 29, & 30
Adults $10, 12 and under $5
Cash or card
Pay at the door or buy your tickets ahead of time here: 
https://franklinctyhistoricalsociety.ecwid.com/
 IF BUYING TICKETS ONLINE PLEASE MAKE SURE YOU ARE BUYING TICKETS FOR THE DATE YOU WOULD LIKE TO ATTEND. WE WILL HAVE A LIST OF PRESALE NAMES AT THE DOOR TO CHECK OFF.
Questions? Email ophistory@pa.net
HAPPY HALLOWEEN!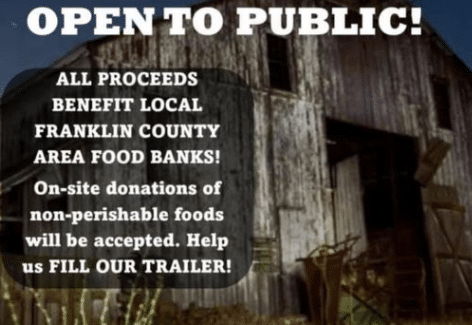 HAUNTED BARN
TWIN BRIDGE CAMPGROUND
October  22nd & 23rd * 29th & 30th – 7:00 PM – 9:00 PM
$5.00 per person – Open to the public
 ALL proceeds go to our local food bank to help our neighbors in need!
1345 Twin Bridge Road
Chambersburg, PA * 717.369.2216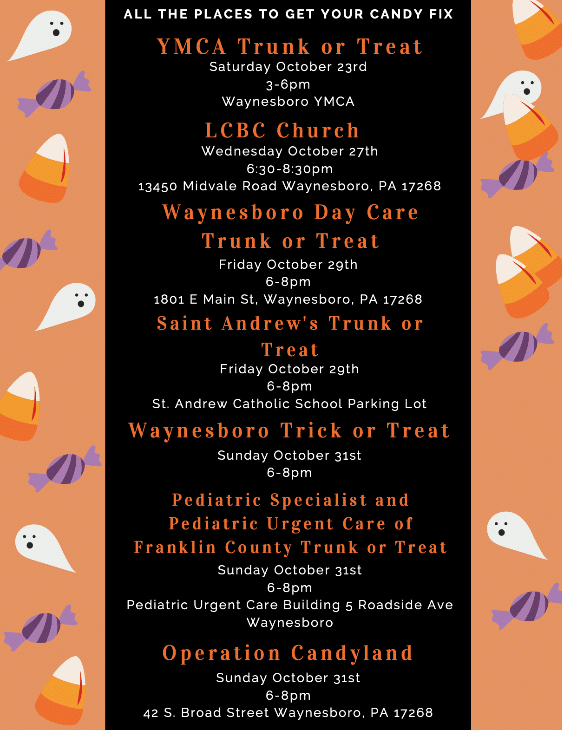 ALL TREATS THROUGHOUT WAYNESBORO
SHIPPENSBURG HISTORICAL SOCIETY
HAUNTED HOUSE
Oct. 22, 23, 29 & 30
8:30pm & 9:30pm
Join the Shippensburg Historical Society for a haunted history tour of the Stewart House!
$5 for SHS members
#7 for general public
For reservations please call (717) 532- 6727 or email programs@shippensburghistory.org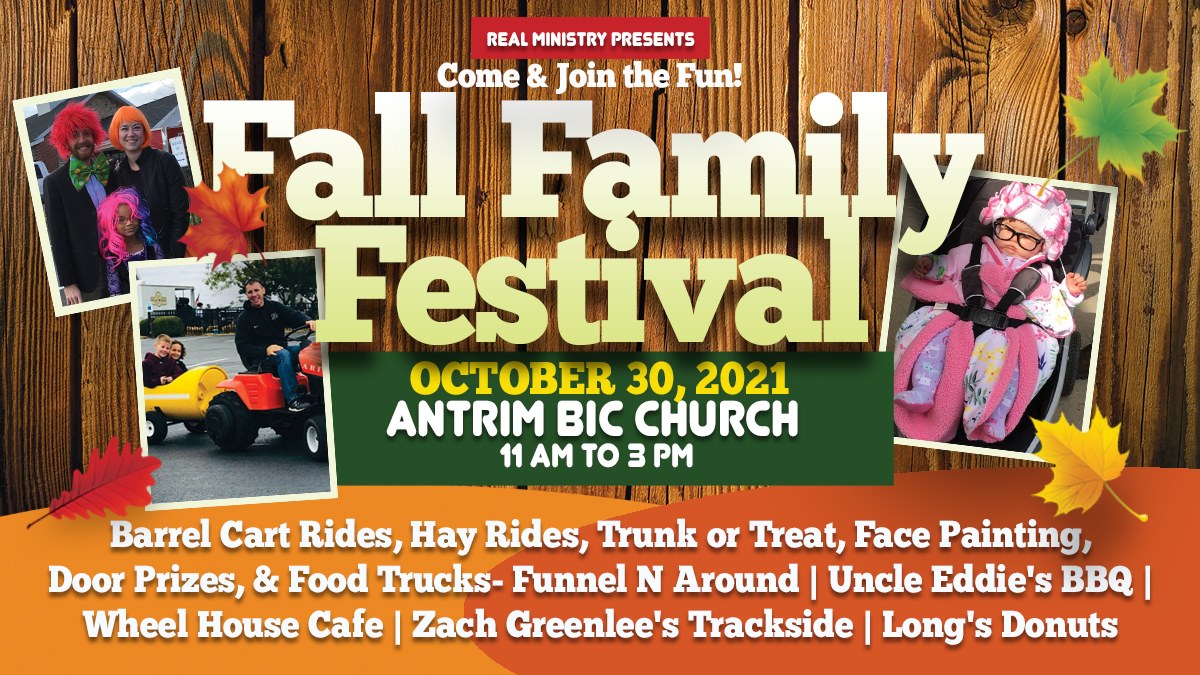 FALL FAMILY FESTIVAL
ANTRIM BIC CHURCH
Sat. Oct. 30 11AM – 3PM
Come join us!!! Barrel Cart Rides, Hay Rides, Trunk or Treat, Face Painting, Door Prizes, & Food Trucks- Funnel N Around | Uncle Eddie's BBQ | Wheel House Cafe | Zach Greenlee's Trackside | Long's Donuts
COUNTRY CREEK
NIGHT MAZE FLASHLIGHT NIGHTS
NIGHT MAZE FLASHLIGHT NIGHTS  Oct , 22-23, 29-30 from 6pm – 10pm (weather permitting) BYO Flashlights!
 Over 20+ activities are included in admission price ($11/person) including light up zip lines, mountain slides, 2 large jump pads, rat racers, and MORE! ADD ON a shot at our Pumpkin Cannon for $2/ person. 
Campfire will be happening as well.
Smore kits available for purchase ($3 makes two) at concession stand. Concessions will be open at 5pm- Local Beef Burgers, Pork BBQ, Hot Dogs, Local Sausage Sandwiches, Fresh Cut Fries, warm and cold apple cider, Apple Cider Donuts and homemade treats!
Last entry 9:00 pm
STONER'S DAIRY FARM
HAUNTED NIGHTS CORN MAZE

TWO Nights Only!  Don't Miss It!
SATURDAY, October 23rd   8:00 PM – 11:00 PM
SATURDAY, October 30th   8:00 PM – 11:00 PM
*Ticket sales will begin promptly at 7:30 PM both evenings.
Admission is $10/person
*The last ticket will be sold no later than 10:30 PM
Please note the Haunted Maze may not be appropriate for children under 10 years of age. Please use your discretion.  Sorry, no refunds will be issued.
Don't forget your flashlight!
Marshmallows, Smores Kits and other refreshments will be available for purchase. Stoner's Dairy Farm does not allow food from home to be brought onto the premises.
Click Here for more information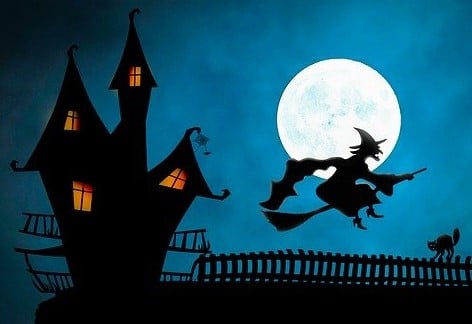 GREENCASTLE HALLOWEEN PARADE
Friday, October 29th 7pm Downtown Greencastle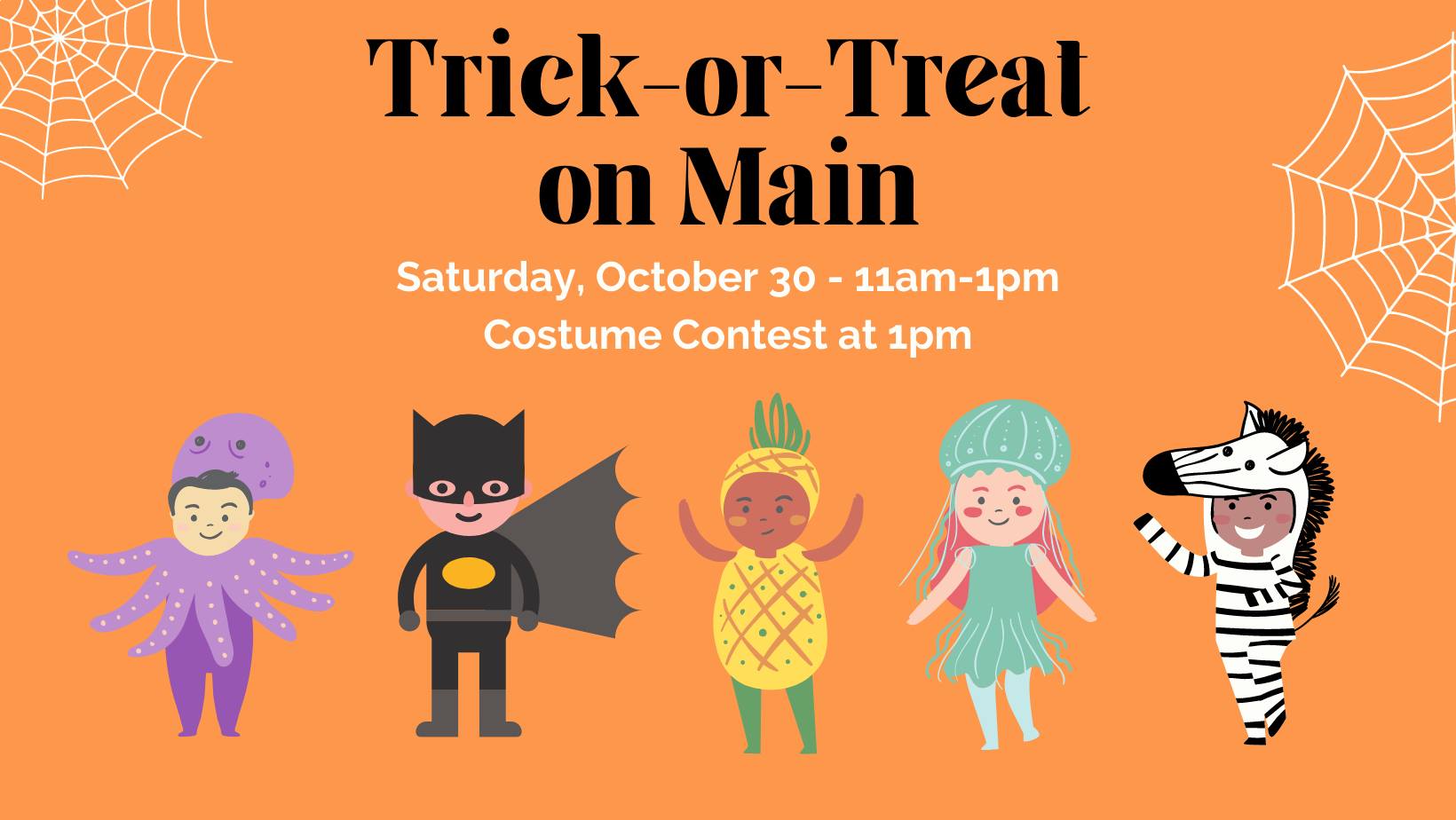 TRICK OR TREAT ON MAIN
DOWNTOWN CHAMBERSBURG
Saturday, Oct. 30th 11AM – 1PM
Bring your little super heroes, witches, wizards and princesses downtown for trick-or-treating with participating downtown merchants. There will also be a costume contest at 1:00 on the square — Also, stop by the Coyle Free Library for Trunk or Treat during Trick or Treat on Main at the Library Parking Lot.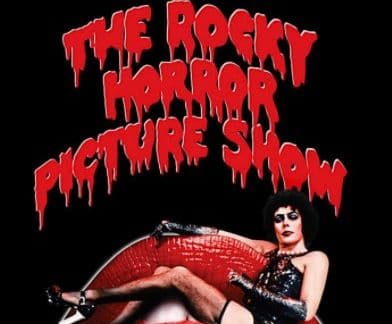 ROCKY HORROR PICTURE SHOW: THE MOVIE EXPERIENCE
AT THE CAPITOL THEATRE
Saturday October 30th, 2021 * 9:00 PM
Celebrate Halloween Eve by joining our Rocky Horror Picture Show "Experience" on October 30!
Dress as your favorite RH character, and participate in the fun audience activities while the movie is running but please note there are certain materials (i.e. anything in a can, ALL liquids) which are NOT allowed.
Please view the pdf linked below for more details.
We want you to have FUN while watching the movie and participating in the follow-along-activities including Doing the Time Warp! – Who knows, we might even do it twice!
$5 Participation Goodie Bags will be available until they run out; first come, first served.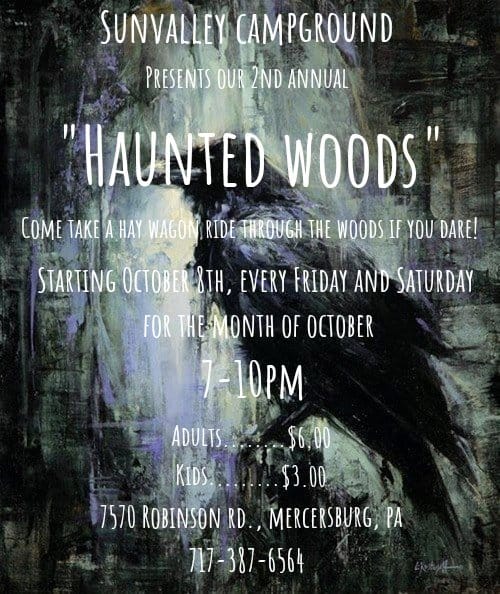 HAUNTED WOODS
SUNVALLEY CAMPGROUND
Every Fri. & Sat. in October 
7pm – 10pm
7570 Robinson Rd., Mercersburg PA — Come take a hay wagon ride through the woods IF YOU DARE!!!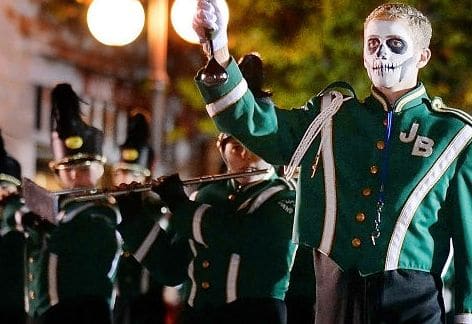 MERCERSBURG HALLOWEEN PARADE
Monday November 1st, 2021 * 7:00 PM
Join us for a spooky good time!
Downtown Mercersburg
Rain Date November 2nd * 7:00 PM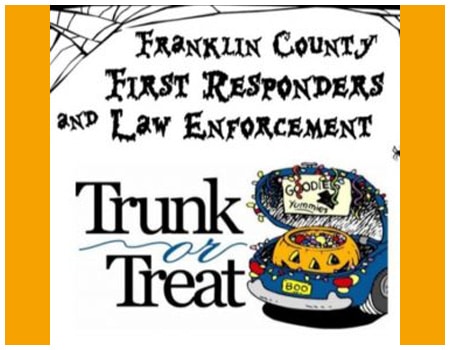 1st RESPONDERS & LAW ENFORCEMENT
TRUNK OR TREAT

Mon. Nov 1
6PM – 8:30PM
Come out and join local law enforcement and first responders for a night of fun, candy and costume at the Chambersburg Mall Parking Lot!