In an effort to counter Black Friday's big box store shopping, Small Business Saturday encourages consumers to patronize locally owned businesses during one of the busiest shopping periods of the year – Thanksgiving weekend! This year, on November 25, support local Franklin County businesses by buying local! Check out some of the specials that local businesses are offering during this special day!
Shop Small in Downtown Chambersburg
Buy $25 or more in downtown businesses between 10am and 2pm and show your receipt for Downtown Dollars in $10 $25 and one $100 voucher! Enjoy one-day sales at many downtown businesses!
Downtown Chambersburg
More than $2,000 in Downtown Dollars will be given away to shoppers who present a receipt for $25 or more dated November 25, 2017 from a Downtown Chambersburg business from 10 a.m. to 2 p.m. at the Courthouse Plaza to receive your giveaway! The Downtown Dollars are vouchers that can be used just like cash at participating downtown businesses on Small Business Saturday for the amount identified on the voucher, $10, $25 and one $100 voucher.
Downtown businesses are those located in the central core district which reaches North to the Towers at Falling Spring, South to Washington Street, East to Third Street, and West to the Rail Trail (also includes Texas Lunch, Roy Pitz, Nathan Miller Chocolate, Jan Zell Wines and Jim's Farmers Market)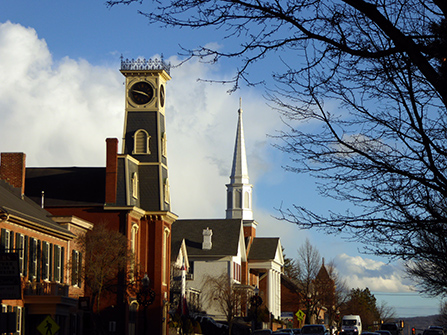 Shop Small Business Saturday in Waynesboro
Small Business Saturday offers many sales in Downtown Waynesboro!
Downtown Waynesboro, PA
Just some of the specials downtown include:
Sander's Furniture Refinishing:  10% off all Unfinished furniture and 25% off furniture
Waynesboro Hospital: 20% off capes/wraps ponchos and scarves!
James Shoes: 10% off everything in the store!
Romance Boutique: Up to 50% off throughout the store and 40% off select massage candles!
Elite Window Fashions: $100.00 Rebate off select Hunter Douglas blinds
Hill Top Arms: Purchase a $100 gift certificate and receive $10 gift card for 2018!
Bellissimo Tu: Coupons to receive 25% off and Buy 1 Get 1 50% Off on their website www.shopbellissimo.com for numerous or check ValPak.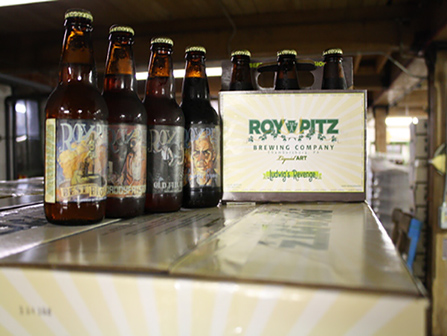 ROY PITZ BREWERY
Take a free brewery tour with the brewers from 2pm-4pm on Small Business Saturday!
140 N. Third St. Chambersburg, PA 17201
Their craft beer, which they call liquid art, is from two Chambersburg natives who graduated from The Siebel Brewing Institute and shares their passion with the area with delicious craft beers. Built within a three-story, industrial all-brick building, the brewery is in the basement, which works day and night for unfiltered craft beer. On top, is the Beer Stube, which hosts live music, food and of course, beers on tap.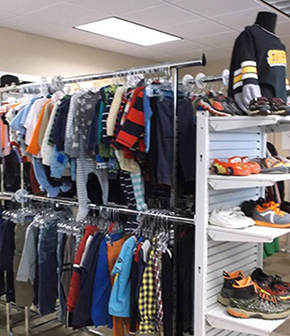 upScale Consignment Shop
On November 25, take 50% off clothing, 20% off fine jewelry and furniture!
24 West Franklin Street, Greencastle, PA 17225
upScale Consignment will be open 8-5pm on Small Business Saturday and has a wide range of clothing and quality items for consignment, including jewelry, furniture, holiday items, stemware, formal attire and more!
E.L.M. Department Store
On November 25, Save 15-50% off plus a free gift with a $100 purchase or more!
12 Center Square, Greencastle, PA 17225
E.L.M. Department Store began in 1930 as traveling "stores-on-wheels" and delivered local produce and soft goods right to the customer's doors.Today, the store is a full-service family clothing store specializing in big and tall men's sizes, ladies' casual and dress wear and accessories and children's clothing and gift items.
JOYFUL ARTS STUDIO
Participate in a Make-It, Take-It Ornament or Wine Glass Painting from 10am-3pm on Small Business Saturday!
21 E. Baltimore Street, Greencastle, PA 17225
This studio hosts art classes, events, a gallery and more. On November 25, participate in this special ornament making and wine glass painting for ages 9 and up, enjoy the day to paint an ornament with the family and make lasting memories. The cost is 1 for $15, 2 for $25, 3 for $35 and 4 for $45.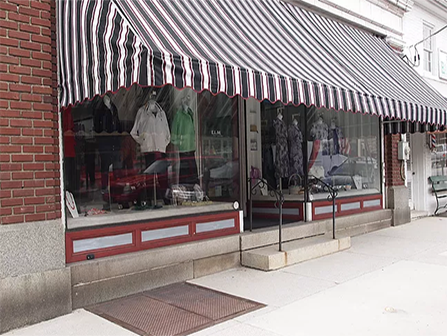 Inner Beauty
Get a free bag with every purchase on Small Business Saturday! Enjoy light refreshments and free on street parking!
11 E. Baltimore St. Greencastle, PA 17225
This boutique in downtown Greencastle offers upscale and functional lines of ladies clothing in size XS-XL, seasonal accessories and a full line of Brighton Jewelry and accessories. It specializes in one-on-one shopping experiences.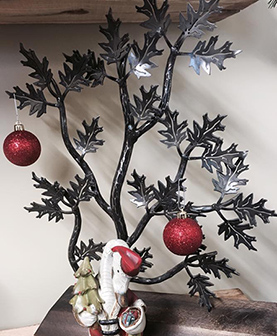 BURDETTE IRONWORKS
Santa will be at Burdette Ironworks between 11am and 1pm for pictures with kids!
5045 Steele Avenue, Mercersburg, PA 17236
The Burdette Ironworks team designs and creates functional and aesthetic projects for the home or business. Each of their projects are unique and use innovative effects of multiple mediums (i.e. steel, aluminum, copper, stone and wood) creating everything from railings, personalized wedding gifts and all in between.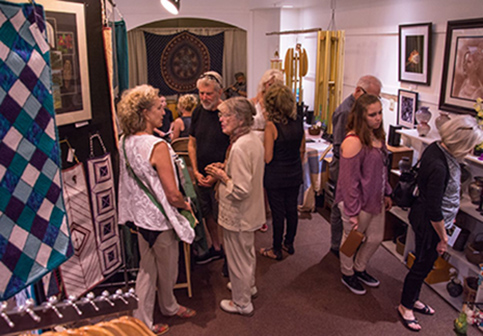 42 West Arts Co-Op
Starting on Small Business Saturday and continuing until December 23, enjoy live music by the Hagerstown New Horizons Band from 1-3pm. Also live pottery throwing demonstrations by Willow Creek Pottery
42 West Main Street, Waynesboro, PA
This art and craft co-operative gallery featuring the work of local artists and craftsmen from Waynesboro and the surrounding areas.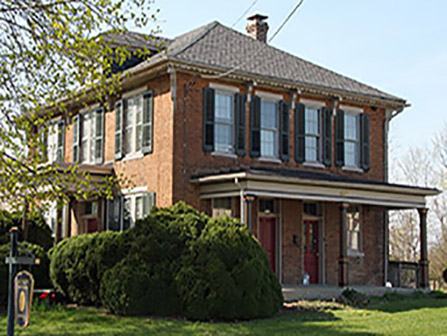 Allison-Antrim Museum
Local and historical books on sale at the museum from 11am-noon!
365 S. Ridge Avenue Greencastle PA 17225
This museum is located within the borough of Greencastle and features local artifacts and the history of Greencastle and the surrounding community of Antrim Township. The museum contains an 1860 house and renovated barn which has permanent exhibits on Civil War history, a library, and a bay for changing displays.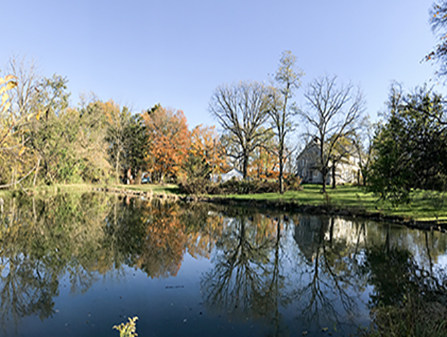 Ebbert Springs Heritage Park & Archaeological Preserve
Estate auction at 9am to benefit the upkeep of the structures on the archaeological preserve!
12633 Molly Pitcher Highway South Greencastle, PA 17225
The auction will include the personal property contents of the Ebbert Spring Mansion to benefit the archaeological preserve and museum. A food stand will be provided by Trinity Lutheran Church. In 2010, The Archaeological Conservancy (a national 501(c)(3) organization) acquired from a developer a 3.4-acre parcel – a portion of Ebbert Spring, "a multi-component site with artifacts spanning from the Paleo-Indian period to the 19th century."  On August 29, the Conservancy acquired five more acres known as the Bonnell parcel, which includes "the heart of the prehistoric component of the site," including an 18th century farmhouse and reconstructed spring house. The archaeological sites have been dubbed a "super site" by the state.  The artifacts range from prehistoric to early contact with white men.  The archaeological artifacts are housed in Allison-Antrim Museum's climate-controlled storage area. Over the next two years, TAC will create trails with archaeological, historical, geological, ecological, and environmental history kiosks throughout the property. The trails will be completed by Old Home Week 2019.