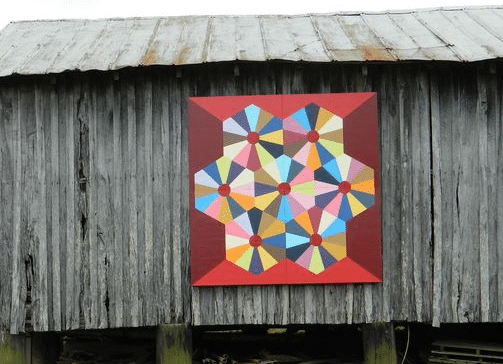 With the support of local quilters, Franklin County Visitors Bureau (FCVB) is starting Stitches in Time: A Barn Quilt Trail as another way to explore Franklin County. At the heart of the Cumberland Valley, Franklin County became home to thousands of German and Swiss farmers, who built the well-known bank barns of the valley. Using replicas of quilt squares on the barns or historic sites, Stitches in Time spotlights agricultural history, architecture, and the beauty of the county's farm land. The trail will bring together quilters, artists, and history enthusiasts to tell the special stories of Franklin County.
Franklin County Visitors Bureau (FCVB) is seeking county property owners with existing barn squares and property owners who want to host a barn square. In addition to barns and sites of history, the barn quilt squares can be affixed to homes, landmarks, or businesses. Property owners can select a classic quilt square design, create their own, or seek support from quilters and artists working with FCVB.
The quilt squares are painted on plywood with exterior paint and can be 2-ft. x 2-ft., 4-ft.x4-ft., or 8-ft. x 8-ft. Larger squares are used when properties are further from the road, so the quilt square is visible. FCVB is also seeking individual artists and groups of artists to paint the squares.
Download an application at www.explorefranklincountypa.com/home/barn-quilt-trail/ to get started hosting a square, painting a square, helping as an installer, or donating supplies for the barn squares.
FCVB hopes to launch the trail in October in conjunction with the move to its new location, the Franklin County 11/30 Visitors Center on the square in downtown Chambersburg. FCVB plans a fall tour of the trail.