APRIL 27
"The World is Our Classroom"
Heritage-cultural sites and activities as a way of
educating your children and family outside of
the classroom.
FREE Event
Franklin County 11/30 Visitors Center
Includes walking tour of Chambersburg
Old Jail and John Brown House
Take The Road Less Traveled As Author Cindy Ross Presents "The World As Our Classroom"
Join the Franklin County Visitors Bureau and author Cindy Ross in taking the "road less traveled" on  Saturday, April 27, 1 to 3 PM, at the Franklin County 11/30 Visitors Center. Ross, travel writer and author of The World is Our Classroom, is a modern adventurer, who with husband Todd, consciously chose to connect their children with the knowledge, culture, and beauty of the world around them. She will share her world travels and inspire families and individuals to take advantage of the opportunities close to home to shape an education. The world around is an every-day opportunity to live a fuller, bigger life.
The event, held in the second floor Great Room of the new Franklin County 11/30 Visitors Center, is free and open to the public. A post-presentation walking tour of downtown Chambersburg is also being offered at no charge. Register for the presentation and walking tour here.
Franklin County Visitors Bureau (FCVB) celebrates April as Spring-into-History month. Franklin County was the American frontier, a vital part of Pennsylvania's breadbasket, and the gateway and retreat of the Gettysburg Campaign. It offers three hundred years of American history and culture, the beauty of the Tuscarora and South Mountains, the two oldest state parks in PA, plus 36 local parks and three environmental centers.

South Mountain Bus Tour
Rescheduled to August 24

200 Years of American History, including:
Settlement, Civil War & turn of the 20th Century
9:00 AM to 4:30 PM
$50/one person or $75/two person
click here
for more information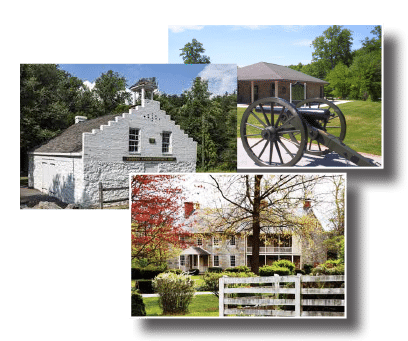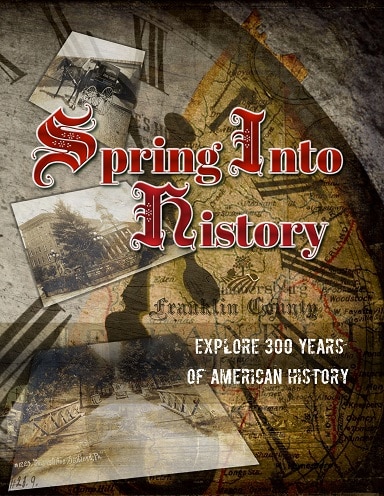 SPRING INTO HISTORY BOOK
Follow along through history with the Spring into History book! Click here for the book!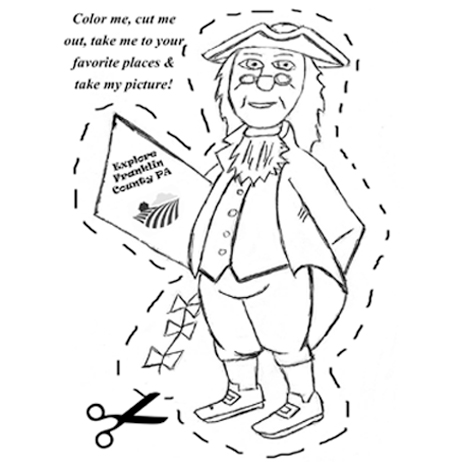 FLAT BEN
Flat Ben, Franklin County's version of Flat Stanley, is returning to ExploreFranklinCountyPA.com for 2018. Download him here, color him, and photograph him at favorite Franklin County sites. Share his pix with #FlatBen!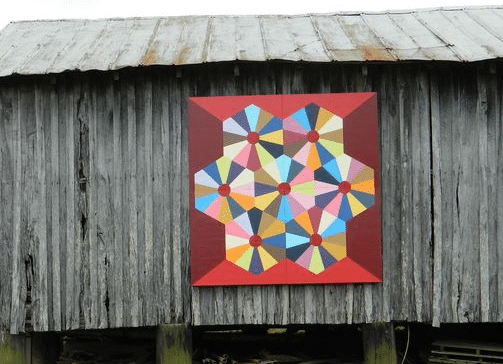 With the support of local quilters, Franklin County Visitors Bureau (FCVB) is starting Stitches in Time: A Barn Quilt Trail as another way to explore Franklin County. At the heart of the Cumberland Valley, Franklin County became home to thousands of German and Swiss farmers, who built the well-known bank barns of the valley. Using replicas of quilt squares on the barns or historic sites, Stitches in Time spotlights agricultural history, architecture, and the beauty of the county's farm land. The trail will bring together quilters, artists, and history enthusiasts to tell the special stories of Franklin County.
Franklin County Visitors Bureau (FCVB) is seeking county property owners with existing barn squares and property owners who want to host a barn square. In addition to barns and sites of history, the barn quilt squares can be affixed to homes, landmarks, or businesses. Property owners can select a classic quilt square design, create their own, or seek support from quilters and artists working with FCVB.
The quilt squares are painted on plywood with exterior paint and can be 2-ft. x 2-ft., 4-ft.x4-ft., or 8-ft. x 8-ft. Larger squares are used when properties are further from the road, so the quilt square is visible. FCVB is also seeking individual artists and groups of artists to paint the squares.
Download an application at www.explorefranklincountypa.com/home/barn-quilt-trail/ to get started hosting a square, painting a square, helping as an installer, or donating supplies for the barn squares.
FCVB hopes to launch the trail in October in conjunction with the move to its new location, the Franklin County 11/30 Visitors Center on the square in downtown Chambersburg. FCVB plans a fall tour of the trail.