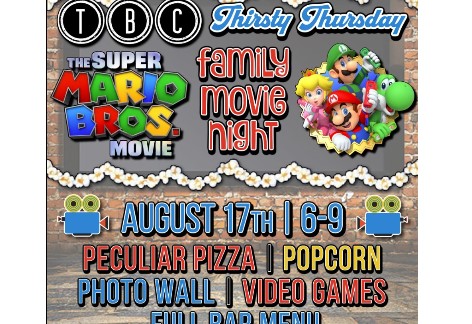 Thursday August 17th, 2023 * 6:00 PM – 9:00 PM
It's-a me! Mario!
One of our favorite Patio events is back!
Grab your mushrooms & gold coins and come join us for an evening of summer fun during our TBC Family Movie Night – Super Mario Bros.!
And now for the details:
– Peculiar Pizza will be serving up their killer pies!
– Video games on the big screen TVs before and after the movie!
– Photo wall and props for fun family pics!
– Free popcorn
– Full bar menu will be available
– Butcher Shoppe snack packs and Goose Bros. ice cream will also be available for purchase
– Most of our standard Upper Patio seating will be available, and we'll also clear an area in the middle of the space for blankets/pillows/beach chairs, etc.
Get comfy!
Hope to see you on The Patio on 8/17!
*Film licensed for public viewing by Swank Motion Pictures, Inc.