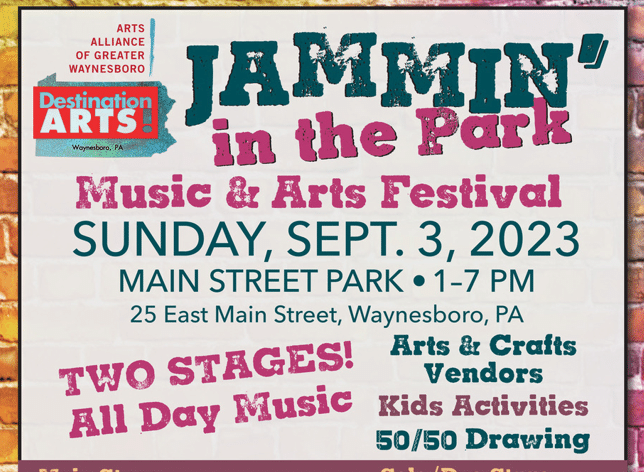 The Arts Alliance of Greater Waynesboro's Destination ARTS! presents Jammin' in the Park, a music and arts festival, on Sunday, September 3 from 1 to 7 p.m. at Main Street Park in Waynesboro.
The full day of entertainment and art includes nine area bands playing throughout the day on two stages, including The Loose Screws, Evan Crider, Little Fry, Tresa Day, Cameron Molloy & the Drivin' Wheel, BBD Trio, Lucky Punk, The Note Riders, and Big Whiskey.
"Across all of the groups, you'll hear a wide variety of musical styles, including classic and indie rock, Americana, folk, jazz, blues, and many unique blends," said Jonathan Ingels, a member of the event committee.
The festival is family-friendly, with free activities for kids and a variety of arts and crafts vendors.
"This year marks our fourth Jammin' in the Park!" said Andrew Sussman, founder of the arts alliance. "The festival is one of our big fundraising events and is a great way for the community to come together in celebration of the arts, as well as an opportunity to spotlight incredible local talent in downtown Waynesboro."
Three food trucks, B&B Bar B Que & Catering, Jimmy's Famous Seafood, and Antietam Dairy provide lunch, dinner, and dessert options for sale in the park. In addition, those over 21 may purchase craft beer from Waynesboro's Rough Edges Brewing.
Sponsored by F&M Trust, the event is a fundraiser and all proceeds from admissions benefit the Arts Alliance of Greater Waynesboro. Admission is $15 in advance or $20 at the door. Children age 12 and under are free.
Tickets are available online at www.artsalliancegw.org or at the door the day of the event.