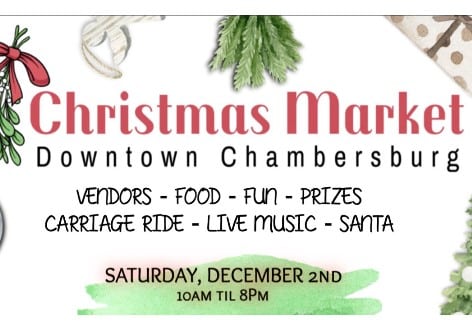 Saturday December 2nd, 2023 * 10:00 AM – 8:00 AM
Check in not to forget the date, & stay in the loop as we will be updating this event page as we get closer.
Share it with your friends & family, it's Free to do so & will help us making the best that we can to get the word out and support our community.
Jingle….Jingle all the way, find yourself taken back to an incredible, traditional Christmas market at this year's Christmas Market Downtown during the first First Saturday of December hosted by Brussel's Cafe in Chambersburg.
Meet and mingle with your family & friends, and enjoy authentic Holiday food and beverages in a festive atmosphere.
We will host a variety of Christmas artisan vendors featuring their one-of-a-kind Holiday creations, glass blowing workshop with Santa's favorite elves & gifts.
You will also have the opportunity to ride down on a magical horse carriage, witnessing the show of the Downtown Holiday lights while sipping on your favorite beverage.
Yes you heard right, He is coming to town so bring your little ones and come snap a pic with him Him & Ms.Claus are pretty enthusiastic in ensuring that everyone's smile higher then the Christmas spirit itself.
The Live Music is presented by the our friends from CASHS Glee Club singing some of your favorite Christmas Carols & The Wilson School of Music presenting multiple Holiday musical acts to cheer up the Holiday mood.
The line up & times will be updated (here) once we get closer to the event.
Sponsorship:
We love to partner with you, so if you would like to become a Sponsors or see how you can help?
Feel free to email: pabrusselscafe@gmail.com | Attn: Alex
Our Mission:
Being able to support a local cause, to help Children in need.
How do we raise funds for?
We will raise accumulative funding from a % of each vendor registering for this event, raffles .
This year event will benefit the local children of SCAAP.