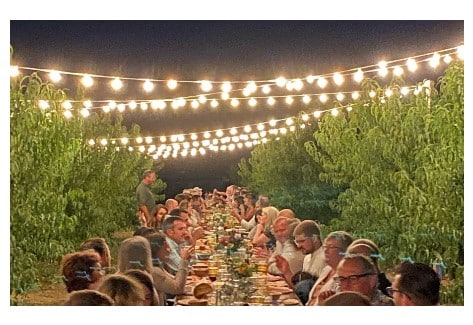 Farm to Table Dinner in the Peach Orchard, Country Creek Produce
Saturday August 12th, 2023 * 6:00 PM – 9:00 PM
Join us for a Farm to Table Dinner in our Peach Orchard!
Take a seat at our handcrafted farm tables adorned with a beautiful table scape within our orchard accompanied by a country sunset, live music and of course, farm-fresh inspired dishes from Chef Brian Cooper of Farmacy Catering.
A truly farm-to-table experience!
Seasonal menu highlights the freshest tastes summer has to offer with:
Trio of Summer Skewers | Peach Glazed Pork Belly with pickle ribbon |Cantaloupe / Country Ham / Smoked Gouda | Watermelon Jalapeno Feta
Tomato Consume Gazpacho w Salsa Fresco & Spiced Farmers Cheese |Grilled Peaches with Arugula & Herbs |Smoked Beets
Shaved Radish | Fried Halloumi Cheese w Peach Poppy Seed Vin | Spiced Grilled Flank Steak over Summer Succotash
Sweet Tea Brined Chicken Roasted and Peach Glazed | Parmesan Crusted Potatoes w Herb Gremolada | Four Bean Salad w Bacon Vin
Mini Peach Cheese Cake w Molasses Ginger Cookie Crust | Sweet Potato Mousse Trifle Shooter | Peach cobbler
Live music
Goblet glasses will be provided if you care to byob
Attire: Dressy Casual; flat shoes recommended
Held Rain or Shine
Orchard Address: use 233 Social Island Rd Chambersburg, PA, follow signs.
Parking in orchard will be approx 100 ft from address.