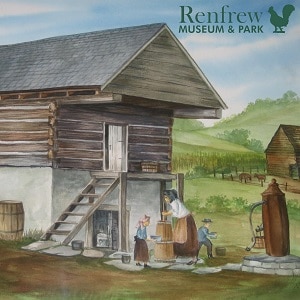 Date
Mar 19 2021
- Dec 17 2021
Expired!
Time
All Day
Labels
CTA Volunteers Needed
Volunteers Needed: Renfrew Museum & Park
Renfrew Needs Your Help
Farmstead Taste & Tours:  This is a redesigned program similar to the teas we had in the past; these events include a seasonal lunch and abbreviated tour but are open to the public rather than a specific bus tour group.  We are reserving set dates and times for groups of up to 18 people to join in this inviting and educational affair.  They will begin at 11:00a.m. and last until 2:00p.m. so volunteers will need to be here at 10:30a.m. and will probably stay until 2:30-ish.  We will need two (2) trained docents dressed in period clothing who could also help serve, and two (2) helpers in the kitchen (street clothes are fine) to prep plates and clean up to make this flow smoothly. Plans include appropriate distancing, masking, and sanitation per COVID-19 Safety Guidelines.
Below are all the dates needed but we are especially in need of help on Friday, March 19th, 2021.
Friday, March 19
Wednesday, August 18     Friday, August 20
Tuesday, December 7         Friday, December 10
Tuesday, December 14       Friday, December 17
We appreciate your help as always in meeting the needs of our Museum and Park.  Please consider volunteering as we strive to make this the best year ever.  To participate please contact Suzanne Toms at suzanne@renfrewmuseum.org or call the office at 717-762-4723.  We are blessed to offer so many opportunities for guests to "Walk Back in Time" and enjoy the wonder that is Renfrew. 
Visit: https://www.renfrewmuseum.org/ for more information on Renfrew Museum & Park