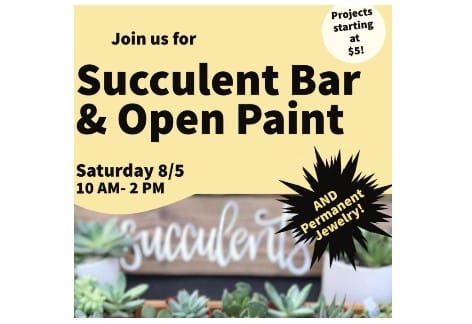 Hammer & Stain Succulent Bar, Chambersburg
Saturday August 5th, 2023 * 10:00 AM – 2:00 PM
Hammer & Stain are hosting their FIRST EVER SUCCULENT BAR this Saturday, August 5th
OPEN PAINT and PERMANENT JEWELRY will also be taking place from 10 AM – 2:00 PM
NO REGISTRATION is required for either of these events!
Just show up between those hours and start creating!
Not feeling crafty or don't think you have a green thumb?
Worry not! We have instructors that will help you every step of the way!
We can't wait to see you on Saturday!
31 S Main St, Chambersburg, PA 17201