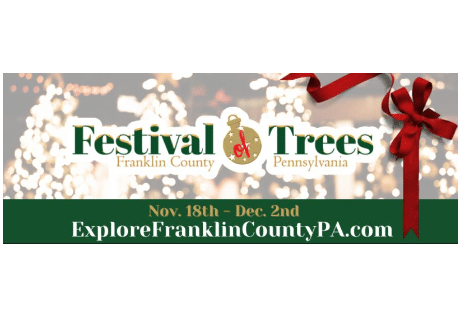 5th Annual Festival of Trees | Franklin County Visitors Bureau
Franklin County Visitors Bureau (FCVB) is excited to bring holiday cheer at the 5th annual Festival of Trees held in the Franklin County 11/30 Visitors Center–the former 1865 National Bank of Chambersburg on the square.
Come see beautiful trees and wreaths decorated by local individuals, businesses and organizations!
Visitors may vote for their favorite tree or wreath by purchasing four ballots for $1.
Silent auction bids for trees and wreaths can be placed in person, via phone at 866-646-8060 or by emailing fcvbfestivaloftrees@gmail.com.
Silent auction amounts will be displayed in the Visitors Center and online.
Current bid amounts will be updated online daily at explorefranklincountypa.com.  Final votes for favorites and final bids for the silent auction will close at noon on December 2 with winners being announced that afternoon.
Enjoy a holiday train display, courtesy of Cumberland Valley Model Railroad Club, support Heart for the Holidays by bringing supplies for Franklin County residents that need assistance, visit with members of Conococheague Institute, Shippensburg Historical Society and Fort Loudoun in period attire as they bring holiday cheer from days past (during select hours) and family fun in downtown Chambersburg.
Let us help you get in the holiday spirit while supporting Cumberland Valley Breast Care Alliance!
Festival of Trees hours are Monday through Friday from 8 AM to 4:30 PM.
Exhibit is not open on November 23 or 24. 
Weekend hours are:
Saturday, November 18 – 4 PM – 8 PM
Sunday, November 19 – 11:30 AM – 1:30 PM

Small Business Saturday, November 25 – 9 AM -3 PM

Sunday, November 26 – 11:30 AM -1:30 PM

Friday, December 1 – 8 AM – 8 PM

Saturday, December 2 – 9 AM – Noon **Silent Auction ends at noon with winners announced that afternoon. **
Find out more about this event and all the activities for kids and Sharing the Heart of the Holidays, Here