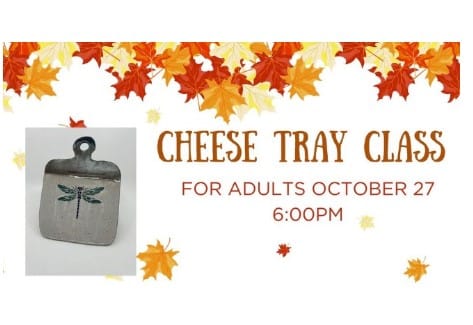 Cheese Tray Class, Ceramics Arts Center of Waynesboro
Friday October 27th, 2023 * 6:00 PM
Create a Hand built cheese tray from a slab of clay.
Perfect for serving appetizers for the holiday meals.
Instructor, Carlina Burcker will lead you through creating your one of a kind piece.
We expect the class to take about 1.5 hours.
Upon completion we will fire your piece with food safe glazes and you can pick it up in 2-3 weeks.
Date: Friday October 27th at 6:00 PM
Location: 13 South Church Street, Waynesboro, PA
Notes: We provide all the tools you need to complete the class.
Please wear comfortable clothing that you don't mind getting dirty.
We have limited on-street parking outside the Studio.
You are welcome to use the parking lot at the Evangelical Lutheran Church just one block up Church Street for classes and pick-up.
If you have questions please contact our Director Jenny Snyder jenny@waynesboroceramics.org