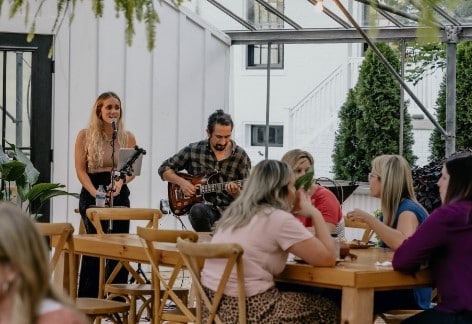 Time
6:30 pm - 9:00 pm
Cost
$60.00
Cocktails & Convos at Grayce Gardens
FRIDAY SEPTEMBER 22, 2023 * 6:30 PM – 9:00 PM
Grab your friends and come unwind in the Gardens with appetizers, cocktails, and live music.
Brenda Gayman with Common Kitchen has made a delicious menu of appetizers for the evening for you to enjoy, along with cocktails from Cold Spring Hollow Distillery.
Live entertainment will be provided by Lauren & Jaime Baretto.
Our Garden Gatherings and Garden Lounge venue spaces will be open for you and your friends to grab a seat, relax, and share good conversation and laughter.
Our firepit will be crackling for you to cozy up by throughout the evening as well!
This is a perfect evening for friends to catch up, date night with your significant other, or fun outing with whoever you like to spend time with.
Ticket Includes:
Appetizers from Common Kitchen
2 Mixed Drinks of your choice from Cold Spring Hollow Distillery
Live Entertainment from Lauren & Jaime Baretto
APPETIZER MENU:
Hoisin Glazed Meatballs | Chicken Shawarma Skewers w/ Cucumber Tzatziki |Blue Cheese Steak Crostini
Spinach Artichoke Stuffed Mushrooms | Caprese Skewers w/ Balsamic Drizzle | Loaded Cheese Balls |Parmesan and Olive Palmiers
Bacon Wrapped Filled Dates |Crostini w/ Balsamic Strawberries & Ricotta
Heath Bar Dessert Shooters | Strawberry Cheesecake Dessert Shooters | Lemon Bar w/ Blueberry Drizzle
DRINK OPTIONS:
Blue Lagoon | Raspberry Splash | Buttercream Dream | Bonfire Cider | Flavored Water | Seasonal Mocktail
Additional drinks will be available for purchase the evening of the event from Cold Spring Hollow Distillery.
Shop the store at 10% discount the night of this event just for being an attendee!
Tickets are $60 per person and can be purchased through our website.
This event requires a ticket, and tickets must be purchased prior to the event | Purchase Tickets
Ticket sales for this event will end September 15th.